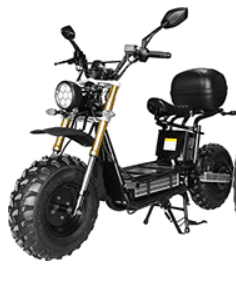 Scooters are a great way of getting around. Quality ones don't come cheap but you really want what you are paying for when investing in a scooter. The Daymak Beast may be a good choice, as it may allow you to use it more than what some other types would.
Overview
Let's be honest. If you live in a climate that experiences snow during the winter months and have a need for a mobility scooter to get around you are pretty much unable to get where you need to go with a normal, small wheeled mobility scooter like most of the ones on the market today. There is however a viable option on the market that will allow you to go wherever you want no matter if there is snow on the ground or not and that is the Daymak Beast All Wheel Drive Mobility Scooter.
The Claim
The claim is that by using the Daymak Beast you eliminate the limited mobility that you get from a regular scooter when there is snow on the ground or if the terrain you may encounter is not just smooth sidewalk or asphalt.
The Hype
The hype is realized by the added opportunities that you get with the Daymak Beast by being able to take your mobility scooter onto places that you may have feared going before. For example, when the grand kids are playing soccer or any other sport or event that takes place out of doors and over grass or other uneven terrain the regular scooters may well get tangled up in that stuff but the Beast will not have any trouble whatsoever.
The Cost
The cost of the Daymak Beast starts at about $3500 for a base model and goes up to about $5999 for the heavily upgraded Deluxe model. These prices are certainly in line with the cost of a good regular mobility scooter with normal sized wheels.
The Commitment
The commitment is the same as required for any mobility scooter, you need to keep the lithium ion battery charged and obviously have regular maintenance performed by a certified mechanic or dealer just as you would with any other scooter but there is nothing different between the Beast and other scooters in that regard.
Evaluation
The Daymak Beast is certainly aptly named! It truly is a beast in performance! No matter what the terrain the Beast will not have much trouble devouring it with its 21 to 23 inch tires! The Daymak Beast can travel up to 15km per hour on road travel and can do an astounding 40 kms per hour in off road mode! The units all have reverse for ease of use and the battery will last between 25 kms to 40 kms on a single charge depending on the model you choose. All can carry up to 350 lbs and you can outfit them with trailer hitches and additional lights depending on your needs and preferences.
Final Daymak Beast Review
We love that the Daymak Beast offers so much in the way of TRUE mobility for those who need it the most. No more being limited to where you can go because of the terrain you may encounter. That is a thing of the past with the Beast by Daymak. Yes, Daymak products used to be arguably less than stellar when the company first started but as with any growing company they have found their feet and are making good products that last and are easy to maintain and the Beast is one of them. We are prepared to give the Daymak Beast scooters a thumbs up.
Our Recommendation
If you truly want mobility freedom or perhaps just want a mobility scooter that looks more rugged and dare I say "manly" then the Daymak Beast is for you! This baby can go anywhere you want it to go (within limits of course!) and does so looking pretty damn good at the same time! The looks say ATV more than mobility scooter and that appeals to a whole segment of the disabled community more than some may admit! Head to a Daymak distributor in your area and take one for attest drive today! You will not be sorry! For something less expensive and geared more towards the kids then you may want to check out the Powerboard.
What do you think? Does the Daymak Beast work or not?