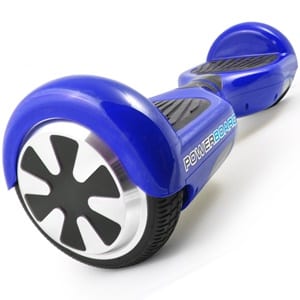 If you want to get the young ones outdoors to burn off some energy and prevent them from become video addicts or couch potatoes then it means providing them with an alternative that is going to grab and hold their attention which is no easy task. However, the Powerboard by Hoverboard may be your solution.
Overview
The Powerboard by Hoverboard is a UL 2272 Certified 2 Wheel Self Balancing Scooter. It has a maximum speed of 10 mph.It does have a minimum weight requirement of the user which is 50 pounds.
The Claim
The promoters of the Powerboard by Hoverboard claim that this electric scooter will not overheat, spark or catch fire. This is important because it was a big safety issue when powerboards in general first hit the market. It was of such a concern that there were banned in many places. Even airlines would not allow them to be transported.
The Hype
The hype for the Powerboard by Hoverboard really revolves around it being an alternative to a skateboard yet still creates an interest in the young one. It really is a step up from the standard type of scooters that would take some manual effort to push one along.
The Cost
The Powerboard by Hoverboard is not an item that you would consider to be cheap. It is going to cost you about $415. For this type of investment, you really want to be sure that the kids are going to be into it, and it's not something where the novelty of owning one is soon going to wear off.
The Commitment
Your commitment is going to be first ensuring that your youngster has the weight capacity for the use of the Powerboard by Hoverboard. Then you are going to want to be convinced that their desire to have one is not just a passing fancy. Following this depending on the age of the youngster you are going to want to supervise their use of it until you are confident they are able to operate it safely. Next, you will want to set the ground rules of where they are able to ride it. Finally, you will need to ensure they are wearing the proper safety gear just as they would with any type of similar device like skateboards or snowboards.
Evaluation
Overall it would appear that the Powerboard by Hoverboard has addressed all of the previous issues that were attached to powerboards in general as we outlined concerning the potential dangers that were attached to them. In general, this product is getting some good feedback and the majority of purchasers seem really happy with its performance. There are some minor complaints such as the cover not being durable enough or the charge not holding. These may be isolated incidents.
Final Powerboard by Hoverboard Review
The Powerboard by Hoverboard really is a substantial investment so one that has to be carefully considered. Once the decision has been made to buy a powerboard then we feel that the Powerboard by Hoverboard is one of the better ones on the market so this helps to justify its price.
Our Recommendation
The Powerboard by Hoverboard is certainly going to entice the kids to get outdoors to use it, but it really isn't demanding a lot of energy use although they will have to develop certain skills to get the most from it. At the same time, the kids always want the latest on the market when it comes to their entertainment so the old fashioned foot powered scooters just aren't going to cut it anymore.
What do you think? Does Powerboard by Hoverboard work or not?