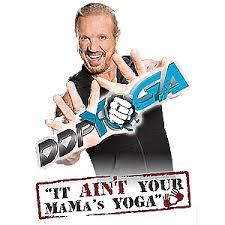 DDP Yoga is a yoga program developed and hosted by Diamond Dallas Page, a former WWE professional wrestler. Not the typical host you'd expect as a yoga instructor, and that's kind of the point. They say this isn't your mother's yoga routine, and it's meant to shake things up while also giving you a good workout. So does it deliver?
Overview
One thing about typical yoga programs is that they have an air of spirituality and can be a bit esoteric. This can be off-putting to the beginner that just wants to benefit from the increased flexibility and strength that comes with striking different poses and holding them. Diamond Dallas Page is known for his no nonsense style in the ring, and the way he teaches is indicative that he's not going to take any excuses, but he's also going to make sure that you take the steps necessary to be able to perform the exercises without hurting yourself.
The Claim
They claim you'll be able to own your life, and they say that no matter what your background is and no matter what you're trying to learn yoga for, you'll be able to do so with DDP Yoga. They have plenty of success stories and testimonials that attempt to back up these claims and show what's possible, but you have to remember that all of these should be considered exceptional results, and your results will definitely vary. But what it does show is that if you stick with the program and make sensible changes to your diet, results are possible. Such is the case with most workout programs on the market today.
The Hype
All the hype that is needed is provided by an emotionally charged video showing a partially crippled Veteran go from being obese and needing the assistance of crutches to move around, to being able to sprint and being at a healthy weight. It's the sort of video that gives you goosebumps and gets you to well up, and if you were on the fence about buying the program it might put you over and get you to whip out your credit card.
The Cost
There are several different pricing options for DDP Yoga, but the most you'll be paying is $120 and that gets you pretty everything they offer, in what's known as the Max Pack. That gets you a total of 15 different workouts. If you don't think you need that much you can get 6 workouts for a total of $70. Everything is broken up into monthly payments, so there's a low barrier to entry. There are also some free videos for you to check out at the site so you can see if you jive with Mr. Page's instructional style.
It comes with a 30 day money back guarantee, so if you use the monthly payments, and you don't like it, you haven't risked much upfront to give it a go, and you can get your money back by returning it, with no more payments due.
The Commitment
This is the part that is up to you, you can throw yourself into it completely for the best results, following the plan that is laid out, and sticking with it week after week. You'd also want to commit to healthy eating while on this, so you can see the most rapid results and stay motivated.
Evaluation
This isn't Diamond Dallas' first foray into the world of yoga. He originally produced a book called Yoga for Regular Guys which has received positive feedback and is lauded for the way he breaks down the different yoga positions and doesn't just skim over several different exercises. The whole point of the program is that it goes against the grain of all other yoga programs. If you were a fan of DDP when he was a wrestler, you'll probably be used to the way he interacts with you on the DVDs and will probably be set from day one.
If you are looking more for a program that teaches you how to meditate along with learning the yoga steps, or that takes more of a spiritual approach to learning yoga, you'd probably benefit more from other systems and packages, or from one-on-one personal training.
Final DDP Yoga Review
DDP Yoga is getting our Thumbs Up rating, based on the feedback it's received from real users, and the fact that there isn't really another yoga program out there like it. If you've wanted to try yoga, but wanted to avoid the artsy fartsy way it's usually presented, this might be for you. If you wanted to get down to the mechanics of each of the moves, and wanted to spend less time focusing on chakras and spirituality, this might be for you. Basically if you've wanted someone to give you a no nonsense approach and help you get the benefits of yoga without turning into a pseudo monk or health guru, this might be for you.
Our Recommendation
This program isn't going to appeal to everyone, and we recommend checking out some of the promo videos at the site before making a purchase. If you like the delivery of DDP, then you will most likely be able to learn from him, and progress through the course. But if you find that he's too brash, or too in your face, or too "this is how it is" then you probably won't be able to tolerate the way he teaches the different exercises.
What do you think? Does DDP Yoga work or not?