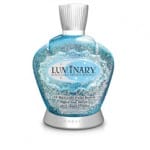 Tanning lotions like Luminary Bronzer by Designer Skin are meant to get you a darker shade than tanning alone. This can be good for your health because it will decrease the amount of time you need to spend in a tanning booth, and also help keep your color in between sessions. But does it work to give you that sexy bronze glow?
Overview
Indoor tanning lotions are like a Godsend for those of us that like to tan at the salon rather than outdoors. If you live in a place with cold, snowy winters you don't really have a choice if you want to look tanned during the cold months. What these lotions do is react with the UV lights in the tanning booth to accelerate the results. They also have plenty of moisturizers to keep the skin healthy and counteract the drying out effects of tanning.
The Claim
They claim that this is a 25X bronzer, so it should get you a good bit darker than tanning alone. Some of the darkest brozners out there are 50X or even 100X so this is sort of middle of the road in regards to getting dark quickly. It's important to keep in mind though that a high quality 25X bronzer will beat out a low quality 50X bronzer in regards to darkness every time.
Some companies will bump up how dark their bronzer is supposed to get you, and users end up getting disappointed when they're using something that it is promising 100 times the darkness. But when you use a product that only promises 25 times better results, it has a higher chance of working as promised, leading to higher user satisfaction. Such is the case with Luminary Bronzer.
The Hype
In an unusual turn of events it is the consumers that are hyping this product up. The word-of-mouth buzz behind it is leading many people to give it a try themselves. Designer Skin, the makers of Luminary Bronzer, don't really make any exaggerated claims or create a lot of self-generated hype.
The Cost
For an indoor tanning lotion the Designer Skin Luminary Bronzer is relatively expensive at $40 for the 13.5 ounce size. But you do get what you pay for, and while there are other bronzers promising similar results, it's nice to know that you are getting something that works like it says so you don't have any buyer's remorse after using it.
The Commitment
All that's required is to apply the lotion before your tanning session and it does the rest of the work. You can also apply it after a session to get the benefits of its moisturizers and incredible smell. In fact, you can use it as often as you'd like, but the real darkening will happen when it's applied before you hit the tanning booth.
Evaluation
Luminary Bronzer smells terrific, so you might like putting some on even if you're not going to be tanning today. While it's true that there are activators in it that work in conjunction with the ultra-violet light to make the bronzing part work, there are plenty of moisturizers that will make your skin smooth and healthier.
As far as getting you darker goes, not all lotions are created equally, and Luminary works better than most in its class. Getting shades darker with one visit is reported by many users, with others saying they were very pleased with the results, and still others saying that other people noticed that they were darker after just one session.
Final Designer Skin Luminary Bronzer Review
Luminary Bronzer has been winning fans for some time now. It's easy to see that this is one of the top bronzers out there, and that the quality is exceptional. We couldn't find anything wrong with this product, and are able to give it two thumbs up and a green light for a purchase.
Our Recommendation
Definitely give Luminary Bronzer a try. If you're just starting out in the world of indoor tanning, this is a great place to start. It's also a great choice if you are rather fair skinned, because you don't want something that makes you look unnatural. It will get you darker, but not too dark, so you can gradually work your way to the color you want. It also leaves the skin feeling and smelling amazing.
What do you think? Does Luminary Bronzer work or not?