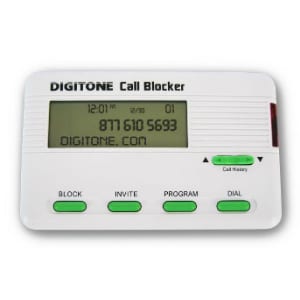 The Digitone Call Blocker promises to put an end to annoying telemarketing calls and bring peace and quiet back into your home. If your phone has been ringing off the hooks with salespeople, collection agencies, or even your ex, this is supposed to be the way to put a stop to the madness. But what are buyers saying about how well it works?
Overview
There are only so many things you can do to try and block calls from coming into your home. You can tell companies not to call, ask to speak to a supervisor if they just aren't cooperating, and pay extra for an unlisted phone number. But all of these methods are pretty ineffective, and take up your valuable time. It would be far easier to not even hear the phone ring when these calls come in, so you can actually stay focused on what you're doing and not be distracted by calls that don't really matter.
The Claim
They claim that the Digitone Call Blocker will be able to block your unwanted calls reliably, and work with all US phone providers, including those that use a high speed Internet connection to give you phone service, known as VoIP. They say the device is set up so that it works as soon as you install it, by immediately taking care of all calls that do not provide their name or number. There are also plenty of ways to customize it so you can specifically block calls from places you don't want to hear from.
The Appeal
If you're incessantly bombarded by phone calls you don't want, it can be really annoying and your phone can be a source of dread rather than a useful tool for keeping in touch with friends and family. There's a national Do Not Call list but that has gotten mixed reviews and it's no guarantee that if you tell a company not to call they won't sell your phone number to other companies so they can start calling you.
The Cost
The total cost for the Digital Call Blocker comes to $100 with domestic shipping included. There are no ongoing monthly costs, and you don't even have to worry about replacing the batteries on it. Most users say that it's worth the price and then some, for the calm it brings back to a home, and the headaches it does away with.
The Commitment
You'll have to hook this up, but it's relatively simple, and the included instructions walk you through it. There are also diagrams available at their website for the different configurations you might have, since each home is different regarding their phone service.
Evaluation
The nice part about the Digitone Call Blocker is that you can not only block specific phone numbers, but you can set it up so that it blocks an entire area code so that same company won't be able to get through on another one of their lines. The way it works is that it will automatically block calls from callers that don't provide their phone number. This alone will block 60-70 percent of all unwanted calls. It can then block specific numbers of whole area codes that you choose. It has an "after hours" mode so that you can create a list of callers that are allowed to call you at night.
Right out of the box this is going to quiet the most obvious of the annoying calls, and with a little bit of customizing you should have sanity returned to your home. The "Block" button right on the device is nice, because you simply push it when a call comes in that you don't ever want to receive again, and you'll never get that call again. It's true that most callers that try to block their name or number are not ones that you want to receive.
Final Digitone Call Blocker Review
The Digitone Call Blocker is getting out Thumbs Up rating, as it has been around for several years now, and they keep making upgrades and improvements on it. The reviews for it have been nothing short of stellar, and it simply does what it says it can do, and does it effectively. With a 30 day money back guarantee in place, and a reputation for having excellent customer service, we'd say that there aren't too many reasons not to at least give this a try, and chances are you'll be pleased with the results and will enjoy your newfound quiet.
Our Recommendation
All signs point to this being a great buy if you want your phone to ring only when it's someone you want to talk to. That's the way a phone is supposed to be, and why it was originally invented. It doesn't have to be a tool used by companies to try to pitch you their goods and services, nor should it be. This is a one-off purchase that can bring you years of ring-free nights so you can enjoy your home again.
What do you think? Does Digitone Call Blocker work or not?