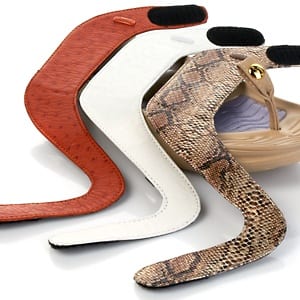 Bandals are a way to get the most out of your sandals by being able to change out the band on them, giving you a new look and style in a few minutes. The concept is that you choose the base you want, and then can swap out the straps that hold your foot in place. But how well does that work out, and how do these feel on your feet?
Overview
Shoes play a big part in the overall fashion sense, and although it's said that people don't really pay a lot of attention to the feet, a good looking pair of shoes can really help coordinate an outfit. In the summer footwear gets more attention because you've got open toes and sandals and eyes are just more naturally drawn as they follow the legs down and check out what sort of shoes you're rocking. They can portray you as a fun and sun-loving person if you get it right.
The Claim
Bandals claims that you can switch out the bands on their sandals and other footwear bases and change up your style in a matter of minutes – or seconds if you're really fast. Other than that they make claims on each individual piece of footwear, saying that some have arch support, others have footbeds made with Sponge EVA, and other qualities of that nature. It seems they are also trying to bring to the market a quality sandal, rather than one that just has the feature of a removable band.
The Hype
This uses a gimmick, and many shoe manufactures resort to this because they have to find their footing in a crowded marketplace. Gimmicks can be thought of as hype creators because they usually make people wonder if it works as depicted, and whether the shoe is well-built or is relying on the gimmick to make the sale. Most people are saying that aside from the bands, these shoes feel good and hold up over time so these seem to be earning their keep.
The Cost
The Bandal bases run anywhere from $38 to $88 with most styles being at the $40 price point. The interchangeable style bands are $15 to $20 depending on the base they go with. So the bases might be a little more than your typical sandal, but the bands are less, so they average out to about the same cost. The time savings is what you're really after here, being able to quickly switch up your style without having to put on an entirely new pair of shoes.
The Commitment
These would require the same commitment to other sandals and thongs, but they have the added feature of being able to swap out the strap. This only takes a few minutes, and the idea is you basically have a new pair of shoes. So compared to the commitment you'd have of buying sandals in different styles, storing them all, and changing into them, these should represent a time and cost savings.
Evaluation
Most people are saying that Bandals are super-comfy, and that the idea is a solid one. They also give them points for being cute, thus pulling off the concept of being able to stay fashionable by just switching out the strap. The assortment of bands they have is pretty extensive, so in theory you could have one base and dozens of bands and be able to mix and match them to coordinate with your outfit.
The Fun Factor
One thing that you can't really quantify is the fun factor that these shoes have. It's fun changing them out and wearing them around. They have some great styles that are better than the ones you find in the store, and once you've got the style right, it only makes sense to want to change the look and design of the band. These get Brownie Points for having a clever idea, and one that reduces costs and saves room in the closet.
Final Bandals Review
These are getting our Thumbs Up review, because they've got such a selection of different bands, and most people are saying these feel great. The ordering process is really convenient, you simply start with the base that you like, and they present you with dozens of different bands that are compatible with that base. You can have a closet full of sandals for less cost and taking up less room, keeping you in style all summer long.
Our Recommendation
Spring and summer are all about bright colors and looking good. These sandals hit on both of those, and also are comfortable to walk in. That's the important part, because it doesn't matter how good a shoe looks if you never wear it because it hurts your feet. Some have said these don't even require a breaking in period, and others say they're very comfortable over the long term, so these are a winner.
What do you think? Does Bandals work or not?