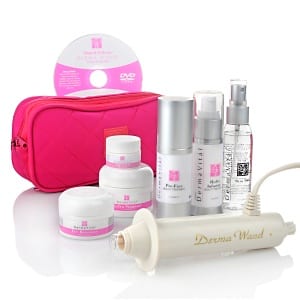 DermaWand is supposed to use radio frequencies to help the skin rejuvenate itself and fight the signs of aging. They say it's the same type of technology that's been used in high end salons for years, and now they've condensed it into an at-home version you can use yourself. But can they really do this, and could it possibly work as well as a professional procedure?
Overview
If there were a pill we could take to reverse the signs of aging, most of us would take it. Since they haven't come up with it yet, we're left to find products like these that work from the outside in. The thought here is that by introducing thermal energy to your skin, you are improving the circulation and oxygen quality, and in turn promoting a more healthy appearance.
The Claim
DermaWand says that it can help reveal more youthful looking skin that glows. It says it also helps to reduce the look of wrinkles and fine lines on your face, and can help improve a worn out, saggy looking complexion. They say this will help you look years younger, without having to pay for expensive procedures, and quickly so you can experience these benefits in days, not weeks or months.
The Hype
This being an anti-aging product makes it subject to a lot of hype. Deep down we all know that Nature will win in the end, and we'll all have to take the road of watching our body's get older and not look the way they used to. But that doesn't mean you can't fight the good fight along the way. The problem is that all of these anti-aging products prey on our desire to keep a youthful appearance. It's easy to fall victim to their tempting claims.
The Cost
They got this set up on a 30 day trial, so you only pay a $10 processing fee on their deluxe skin care set in order to get the DermaWand in your hands. They say that if you don't like it they'll refund the fee and even pay for return postage. If you do like it and decide to keep it, they bill you $40 a month for three months and also add on a $15 shipping charge. Total cost if you decide to keep it: $155.
The Commitment
Anti-aging products have one thing in common: You have to use them a little bit each day and be diligent about it. If you only use this once in a while, you're not going to see very good results, and inside of 30 days you might not be impressed with it enough to keep it. What you'd want to do is make sure you use it daily for about 3 weeks and then make up your mind on whether you'd like to return it, or if it's showing enough results to stay on with it.
Evaluation
The DermaWand is getting mostly positive reviews from those that try it out. Sure, you'll find those that said they didn't like it, or that it didn't give them results, and there are a few complaints about the lack of customer service, but judging strictly on the feedback of the product itself, it's getting rave reviews. Users say that it makes their skin feel great, that they noticed improvements after just a few uses, and that their skin looks better than it ever has.
You have to keep in mind that people that deal with customer service are probably bringing a lot of baggage to the situation, and since communication is a two way street, they could be making the problem worse than it really is. Two people can have an interaction with the same customer service rep, and one will get what they wanted, while the other will leave disgruntled. It's just human nature.
Final DermaWand Review
We're giving the DermaWand our Thumbs Up rating, as it's hard to argue with the fact that it does something. Most people are wondering if this works at all, since it sounds a little far fetched that radio waves could be used to improve the skin's appearance. But the fact of the matter is that people are trying this out and really liking it. Since they make it so easy to try it out, with hardly any cost involved upfront, it's one of those situations where you owe it to yourself to quench your curiosity.
Our Recommendation
They're really doing their best to get you to try the DermaWand system. By allowing you to get this for just a $10 outgo, it's hard not to want to try it out for 3 weeks and see what it does. If you like it they've got it broken down so it's a reasonably monthly payment for just 3 months, so it'd be hard to regret trying it out if it ends up producing results.
What do you think? Does DermaWand work or not?