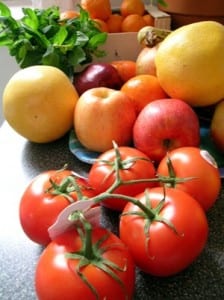 The NutriBullet claims that it doesn't merely blend the ingredients you put in it, it extracts all of the vitamins and minerals from the food so that you are getting all of the good things you body needs. But is this really different than a blender, or is it all just a lot of hype?
Overview
At first glance this looks a lot like a Magic Bullet, and it has a similar name. You might also compare it to a juicer, since the remaining drink looks more like juice than a shake or a smoothie. It's trying to make a third category, referring to itself as extractor and saying that it's neither a blender or a juicer, but better than both. There are definitely inherent flaws with juicers and blenders, so it's easy to see why a company would try to make something that outshines them.
The Claim
The manufacturers of the NutriBullet say that this unleashes your foods by breaking them down and turning their cells "inside out". They draw the distinction from being a blender because blenders leave behind big chunks of food behind, which means your body still has to break those bigger particles down. They also say they're not like a juicer, because a juicer separates the juice from the pulp and wastes a lot of perfectly good fiber and other nutrients. They say that rather than juicing, this blasts through pulp, skins, and even seeds so that it all becomes liquified.
The Hype
The hype is there because they've got to do a lot of convincing that this isn't just a blender. It looks like a blender, it sounds like a blender, and it makes smoothies that look like the ones that come out of a blender. So they need to do a lot of demonstrating and a lot of claim-making in order to convince people that it's different from an ordinary blender, and can serve as a replacement for their current blender and juicer.
The Cost
You can get the NutriBullet for $120 delivered to your door, or you can break it up into 6 payments of $20 for no additional charge. Either way it comes with a 30 day money back guarantee so you don't have to worry about losing your money in order to try it. A few interesting points: most offers like this will charge extra when you break it up into payments rather than making a one time payment, and they include free shipping no matter how you pay, so there's really no penalty for breaking it up into installments.
The Commitment
What most people don't realize is that when you buy a juicer or a blender similar to this you're committing to buying the fruits and vegetables that go in it. These can be pretty expensive, especially if you are buying fresh and organic produce. Since these drinks use a combination of so many different ingredients it means you have to buy a lot of produce in order to make the shakes, so just be prepared for this.
Evaluation
If this does what it says it does there's really nothing to compare it to, since most juicers leave a lot of pulp and fiber behind, and most blenders don't fully blend up shakes made with fruits and vegetables. Users are saying that they're really happy with the way it works, and they use it more often than they thought they would. Of course you'll find those that say it didn't live up to their expectations, but that's true for most every product.
The real question is whether you are really into making a healthy change in your life, and ready to drink the kind of beverages this can make. If you've already taken steps to make positive changes, then this would dovetail nicely with your efforts. But if you're thinking of using this as a catalyst for a more healthy lifestyle, you might want to try incorporating other healthy actions first to establish the healthy habit so you'll know you'll use this.
Final NutriBullet Review
We're giving the NutriBullet a Solid Try rating, due to the positive feedback it receives, and also because there's not much risk involved with trying it. When you have a product like this that could have such a positive benefit on your health if it enables you to drink more fruit and vegetable smoothies.
Our Recommendation
This is something that you will definitely want to try out. $20 gets it delivered to your door for a one-month trial. Just be prepared to put it through its paces so you can make your determination whether or not you want to keep it. At a total cost of $120 it's got a lot to live up to, so make sure you try making some green smoothies in it and give it some difficult tasks to see how it performs.
Read user reviews on the NutriBullet
What do you think? Does NutriBullet work or not?