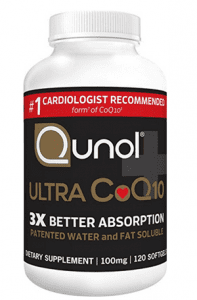 At some point in time almost everyone becomes concerned about their heart health. For some this occurs when they begin to have heart related problems. For others they begin to seek out preventative measures to assist in helping to keep their heart healthy. Many are now taking a look at natural remedies such as CoQ10. This is available in different forms and variations such as Qunol Ultra CoQ10.
Overview
CoQ10 is something that the human body produces on its own. It is an antioxidant and one that contributes towards growth and body maintenance. Some research has shown that it may be beneficial in the treatment of some medical conditions such as heart issues. Based on this pharmaceutical manufacturers have produced this as a supplement with Qunol Ultra CoQ10 being one of them.
The Claim
Qunol Ultra CoQ10 promoters claim that this supplement has a times three better absorption rate. Absorption was one of the problems that was first created with the production of CoQ10 supplements.
The Hype
The hype around Qunol Ultra CoQ10 is not only its better absorption but that it is a natural water and fat soluble supplement.
The Cost
The cost for the Qunol Ultra CoQ10 will depend on where it is purchased. The average cost is $10.39 for 30 soft gel capsules, or it can be bought in lots of 60 or even 120.
The Commitment
The commitment for Qunol Ultra CoQ10 is the same for any supplement that one is going to take. It means taking it regularly and as directed. It also means waiting for the supplement to enter the body and begin to do its job.
Evaluation
The evaluation for Qunol Ultra CoQ10 is based on individual use. Anything that is going to be consumed by the human body is going to provide individual effects. This is because every human is different. Although the body naturally produces CoQ10 as one ages it is believed that with a product like Qunol Ultra CoQ10 it helps to replace what is no longer being produced and is something that the body needs. When it comes to helping with certain health problems like the health research is showing it may help with congestive heart failure or some are indicating that it can help to reduce blood pressure.
Final Qunol Ultra CoQ10 Review
We are prepared to give Qunol Ultra CoQ10 a thumbs up. This is based on the significant amount of feedback from satisfied users. For example, on Amazon there has been 1,750 reviews giving the Qunol Ultra CoQ10 a 4 star rating. This is significant when it comes to a product like a supplement. One thing that must always be kept in mind even when it comes to supplements is to check with your health care provider first. The positive comments vary but at least one has said they believe the product contains the unsafe form of vitamin E.
Our Recommendation
If you are looking for an alternative for CoQ10 or one to do a comparison with then check out Ubiquinol.
What do you think? Does Qunol Ultra CoQ10 work or not?