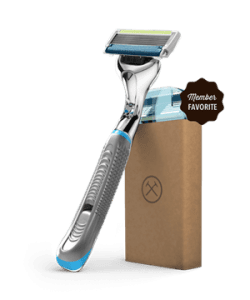 There is no doubt that we all enjoy any kind of convenience. Shopping online has added to this, and being able to have common items delivered right to your door is a big thing. How about for you men never having to worry about buying your razor blades anymore.?How many times have you gone to grab your razor and realized that you forgot to buy blades? Perhaps the Dollar Shave Club will put an end to this mishap.
Overview
The two biggest hassles that come with shaving is remembering to buy the blades and the cost of them. The Dollar Shave Club has addressed both of these issues. You simply have to choose which types of blades you prefer. There are three types that you can choose from. Then every month they are delivered to your door automatically. You don't have to remember to order them each month, as they are sent automatically based on your subscription.
The Claim
The promoters of The Dollar Shave Club promote this as being a hassle free way of keeping up with your razor needs. They have made it super easy and affordable.
The Hype
The Dollar Shave Club is really focusing on the convenience for being the hype. Plus, the fact that they offer quality blades so there is no hit and miss every time you go to purchase your blades.
The Cost
The cost is going to depend on which blades you choose. The handle is free so there is no cost there. If you go with the Humble Twin it will cost you $1. a month for 2 blades. The 4X will cost you $6. per month for four blades. The Executive is 6 blades per month for $9. Shipping is free except for the Humble Twin which costs $2. per month.
The Commitment
The first commitment you are going to have to make is deciding which blades you want to with. You can begin with trying one, and if you don't like it then simply change your order.
Evaluation
The concept behind this idea for The Dollar Shave Club is really good, and no doubt that many will want to take advantage of. Women also like to shave their legs too, so it may be something they want to consider. Not having to worry about buying them when you are out shopping is a real bonus.
Final Dollar Shave Club Review
One of the concerns that came to our mind was how about the quality of the blades. So far the feedback regarding this has been quite good. Something else that was noted is that the Dollar Shave Club offers good customer service. This is really important for businesses that offer this type of membership. The price for all three types of razors is reasonable. Based on what we have learned about the Dollar Club we are prepared to give it a Thumbs Up.
Our Recommendation
In the past, we have looked at other resources to make shaving a whole lot easier. We took a look at the One Razor so see what you think about that.
What do you think? Does the Dollar Shave Club work or not?