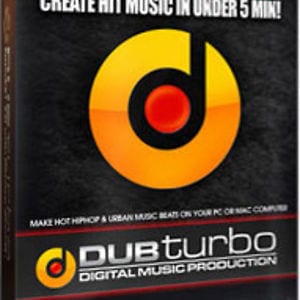 DubTurbo is beat making software that you download to your computer and is supposed to be able to allow you to start making beats right away. They say it doesn't matter if you've never made a beat before because they train you how to do it. But can you really make beats that sound like the professionals with a piece of software like this?
Overview
Maybe you've always wanted to make your own beats, or wondered how some of the best beat makers out there do it. Perhaps you have dreams of being in a studio using all of the latest technology and having everything at your fingertips. You might even have considered creating beats and then selling them, or even becoming a famous music producer. Or maybe you just want to do it as a hobby, making and mixing up beats for some of your favorite songs, making them sound better or unique.
The Claim
DubTurbo says that you can you can make professional sounding beats in a short amount of time. They claim that they guarantee that you'll be able to make your first beat within the first hour of buying the package. They say they use high quality samples, not MP3s, and that you can use it either on your own machine, a Mac or a PC, and that it exports in a studio quality format.
They also claim that they can help you get exposure and to sell the beats that you create. They have video training so you're not lost on how to use it, and they provide mastered libraries so you don't have to go scouring the Internet for music to use. They say it's drag and drop easy and you can perform many functions on the fly with all of the shortcuts, triggers, and tap actions that are built in to the software.
The Hype
We'd all love to make sick beats, but there must be some sort of skill involved, or the hottest artists out there wouldn't be as hot since the law of supply and demand is in effect. This means that there must be a short supply of truly great beats, or those at the top would not make the kind of money they do to continually come up with a winning sound. If everyone could do it there would be too much of a supply and the price would come down.
The Cost
DubTurbo is $40 and they say this is an introductory price. It's sold through ClickBank, a payment processing service that insures your transaction goes through securely, and also backs up your purchase with a 60 day money back guarantee with no hassle. When you compare this price to the cost of getting professional studio equipment it's a pretty big difference and something that most would consider a bargain.
The Commitment
They say that you'll be able to start making beats right away, but you'll still want to commit to learning and trying new things, playing and tinkering with the software to see all that you can do. If you want to get serious about this and turn it into a business or a career, you'll want to dedicate the time to learning how it all works and how you can take the beat that's in your head and put it in the real world.
Evaluation
DubTurbo has an extensive list of features that makes it stand out from the competition. It definitely warrants a trial run, and at this price point there's not much holding you back if you're in to beat making, hip hop, or just a music enthusiast. It basically boils down to there being a small handful of products like this, and having to choose the best one to go with that meets your needs. There are a lot of free options out there but most of them are limited in what they can do, and still very buggy because they are relying on others to keep them updated and add new features.
What this does is takes a series of different products and puts them together in one cohesive package so you don't have to get them separately from different sources. Since it's all in once place you really can download this and get started right away, without having to go out and buy other software or music to use.
Final DubTurbo Review
DubTurbo is getting our Solid Try rating, based on it being in its second version which means they are continually making updates to it. We like that you're always able to download the latest version and all of the updates for life with just a one-off payment. We also like that it comes with a drum machine and an 8 octave keyboard so you have similar tools to what the pros use and you can do it all from the comfort of your home computer.
Our Recommendation
Getting yourself an evaluation copy of this for $40 and putting it through its paces for a full 60 days before making the verdict of whether you want to keep it or not is a pretty good idea. You can even do a comparison test with Dr. Drum to see which one you like best. They each have their own unique features and user interfaces so it's a matter of finding the one that jives with you the most.
What do you think? Does DubTurbo work or not?