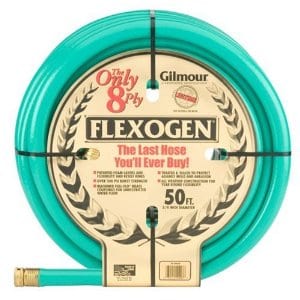 A Flexogen Hose is billed as the last hose you'll ever have to buy because it is supposed to be extra durable, and also because it's backed by a lifetime guarantee. When it comes to doing yardwork or gardening, it's good to have a quality hose you can rely on, so we looked into this further to see if this really is a great choice for a garden hose.
Overview
There are a lot of problems with your ordinary run-of-the-mill garden hoses. They often get too tangled and kinked up. They can also have problems with durability, especially if they are dragged across a driveway or are rubbed up against metal objects. There's also the complaint that they're too heavy. Most people can come up with at least three things that they would change about their hose. It seems the makers of the Flexogen line of hoses are trying to fix as many as they can.
The Claim
Gilmour, the makers of the Flexogen Hose, claim that you won't have to buy another hose after you buy theirs, both because it is meant to last a lifetime, and also because they're prepared to replace it if anything should go wrong with it – ever. Few other hoses on the market come close to offering that kind of guarantee. But aside from that, how well it works would be the better thing to focus on here. Most people are saying that it works great, and that it was a good purchase.
The Hype
At the end of the day we're talking about a garden hose here, so it's not as if the world is resting on the decision you're making. But it is nice to have a reliable hose at the ready for whatever tasks you've got to get done that day. So at first it might not sound like a big deal, but if it's one less thing you can check off your "to buy" list, it's worth the time spent finding the right one.
The Cost
You can get a Flexogen Hose for anywhere between $27 and $55 depending on what size you're after. You have the choice in length and also in girth. You can choose between 25 feet all the way up to 100 feet, and you can get them in 1/2 inch or 5/8 inch sizes. Compared to the kind of hoses you'll see sold in stores, this might be a little more expensive, but the theory is you're buying your way out of a bad hose.
The Commitment
Since they say this is the last hose you'll ever have to buy, it seems like your commitment to garden hose shopping would be finished. Other than they there wouldn't be any more commitment than using a regular garden hose, except that this one should be easier to use and kink up on you less.
Evaluation
The Flexogen Hose gets very good reviews from most users. There are of course those that didn't like it, and some that had problems with it. One user took advantage of their guarantee on a defective unit, returned the hose ends as instructed and recieved a brand new hose via UPS in short order. However, another user made an interesting note wondering why you'd want to take someone up on a guarantee like that if they're only going to send you another similar unit to the one that had the problems in the first place.
But this overlooks the fact that manufacturing processes aren't perfect, and sometimes there really is a defective unit. This is why companies guarantee their products, to make up for those glitches and keep their customers happy. By choosing not to take them up on the offer you basically negate the effectiveness of the guarantee, and are left searching for another hose.
Final Flexogen Hose Review
The Flexogen Hose is getting our Thumbs Up review based on the great feedback it gets, and also because Gilmour, the company behind it, has a track record of success at getting it right when it comes to lawn and garden products. There are those companies out there that still bring a sense of pride to their business and it comes through in the quality of the craftsmanship of their products. Maybe one day you'll have to take them up on their lifetime guarantee, but worst case scenario you still wouldn't have to buy another hose again.
Our Recommendation
We recommend getting one of these hoses if you're looking for a quality, traditional style hose. You should also check out the XHOSE which is able to expand and contract when in use and not in use so you can easily carry it around when it's turned off. This might be a better choice if you're always complaining about how heavy garden hoses are, because the Flexogen model doesn't make any claims on being any lighter than a standard hose.

What do you think? Does the Flexogen Hose work or not?