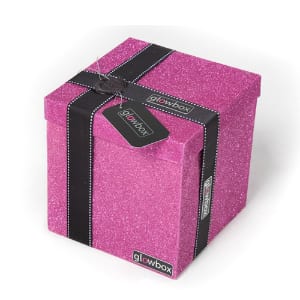 The Glowbox concept lets you order a gift for someone, and also help those in need at the same time. You are given a lot of different choices of what kind of box you want to give, and the gift inside are supposed to have been chosen by gift specialists. But how well does this really work, and do the gift recipients actually end up liking what they receive?
Overview
This would be a great idea for the person that is hard to shop for because they seem to have everything. By putting the responsibility of finding thoughtful gifts into someone else's hand, you are avoiding the brain racking that goes along with trying to choose the perfect gift. The only question remaining is whether the whole is greater than the sum of the parts. In other words, is getting someone a lot of little gifts better than getting them one big thoughtful gift.
The Claim
The Glowbox team claims that you're helping deserving kids get free iPads each time you buy a box. This is because they supposedly donate one free iPad each time they sell 25 boxes. They also claim that the boxes they send are filled with hand-picked gifts that most people would enjoy receiving. They appear to be very heavily centered around giving back, setting up not only the iPad giveaway, but also allowing people to donate gift boxes and allowing schools to use them as a fundraising method.
The Hype
The hype on these is that they almost seem too good to be true. You end up giving someone actual gifts, but on top of it they're also helping to donate a gift to someone in need. That's what creates the skepticism, but also because you're not assured of what the person is going to get, so you're required to use a little blind faith and hope that they get it right and the person likes what they receive.
The Cost
You are in control of how much the Glowbox costs. They start out at a basic level for $55 and can go up to nearly $1000 depending on how many gifts you want included on the inside. They also allow you to donate boxes to anyone you'd like, and they even have a list of people that would be happy to receive one, and they allow you to track and see pictures of who gets your gift so you can get that feel good feeling from your purchase.
The Commitment
This is the ultimate in lazy gift giving. You simply click on the category for the kind of box you're getting, choose which level you want to go with, and click the buy now button. Then you simply wait for the accolades to come in.
Evaluation
The idea behind Glowbox is a good one, especially in this day and age where people just buy the things they want throughout the year as they go along. This means at any given point and time they really don't need anything, so you're often at a loss of what to give them. This product has the dual benefit of helping someone in need, and since they let you track who you helped and how you help it adds to the credibility and isn't left as a mystery.
Some of the example gifts they show might not be what you have in mind for the person you're buying for, but they're only examples, and they say the actual gifts they'll get change daily and are hand-selected and hand-wrapped. So you're leaving a lot of it to chance as far as what they'll get and if they like it, but a big appeal to this is that they'll be opening at least 8 different individually wrapped gifts so it's got that Chrismas-morning-in-a-box feel to it. It's hard not to feel special when you're opening 8 gifts all for you.
Final Glowbox Review
We're giving Glowbox a Solid Try rating, as this is something that many people will find helpful, and receiving one seems to be a lot of fun. Gift-giving can be pretty stressful, and this will at least make it look like you went over the top. The only thing we would change is that they should send the gift recipients to a different website than the ordering page. They include a card that let's them track how they helped someone in need, but it takes them to the main page which has the prices openly displayed.
Our Recommendation
If $55 is in your price range for a gift for someone, and you're always stuck on what to give them, this would definitely be a service to try. Chances are they'll like at least a few of the things that come in the box, but the added novelty of opening so many gifts, combined with the fact that there's a charitable donation involved makes it a winner.
What do you think? Does Glowbox work or not?