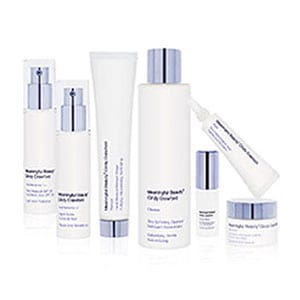 A lot of skincare products come and go but then there are some that appear as though they are here to stay. One of these may be Cindy Crawford's skincare line Meaningful Beauty. It didn't take long for it to take off when it first hit the market in 2005. So where is it at today?
What Is Meaningful Beauty?
It is a line of skincare products that actress Cindy Crawford created with Jean-Louis Sebagh who is a French cosmetic doctor. As a plastic surgeon he has been recognized for his anti-aging surgeries and the use of botox. The product line was developed to be sold through direct response marketing for the company Guthy-Renker.
The Product Line
There are several products within this line. They can be purchased separately or they can be bought as a package such as the Introductory Deluxe System which includes:
Skin softening cleanser
Youth Activated Melon Serum
Anti Aging Day Cream
Age Recovery Night Cream
Lifting Eye Cream
Each of these are marketed as if they each provide a specific purpose. You can also choose a 7 product introductory system.
The Ingredients
At the time that Meaningful Beauty first came out on the market, there was not the knowledge or attention being paid to ingredients in skincare products that may not be good for the skin. Many women and some men are bcoming more proactive as to what they are using on their skin.
It is one thing to know what the ingredients are but another to know whether they can be harmful or not. Quite often there is controversy over what is harmful and what isn't, so that can add to the confusion.
An example
Sodium Lauryl Sulfate/Sodium Laureth Sulfate (SLS)
This is a common ingredient in many skin care products. In recent years the issue has been raised that it can be detrimental to the skin.
This ingredient is found in the MB Skin Softening cleanser and is listed as the 5th ingredient.
Phenoxyethanol
This is another ingredient that some experts are saying can be harmful. It too is an ingredient in the MB Skin Softener Cleanser and is listed as the last ingredient.
So What Does All This Mean?
Those that are pro organic skincare are going to be quick to point out what are believed to be potentially harmful ingredients. However, there are some things that have to be kept in mind about this.
What scientific proof is there to back up the adversity of the ingredient on the skin or health?
In small amounts is it considered to be safe to use for skincare?
So, when you are doing research into skin care product ingredients, or hear negative stories about the ingredients they contain, then you need to do your own full research to come to your own conclusion.
Some may say that because it is approved to be on the open market then it must be okay. That may not always be the case.
The Secret Ingredient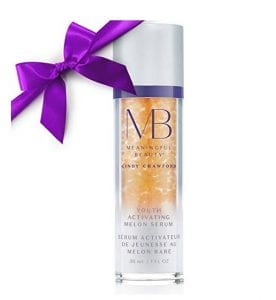 Every product that is sold successfully usually has a unique selling proposition. For skincare products the hype usually revolves around one specific ingredient.
For the MB products line keeping in mind these are individual products they each have their own ingredients. As an example the Youth Activating Melon Serum is promoted as having "encapsulated melon leaf stem cells". Sounds impressive and especially since one of the latest buzz words is "stem cells".
Before getting all hyped up about this though it means doing some research into whether stem cells in skincare products can really penetrate the skin and be effective. The results of the research may be surprising.
Do The MB Line Of Products Work?
What most are going to care about is whether the Meaningful Beauty products deliver on the promises that it makes.
Cindy Crawford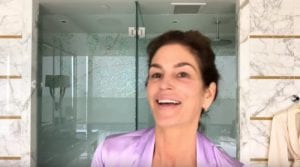 Cindy Crawford is the face for this skincare line and there is no doubt that she is still very beautiful at the age of 53 as she was born in 1966.  So is it her Meaningful Beauty Line of skincare products that are keeping her youthful?
The Reality:
There is plenty of information on the internet that indicates that Cindy does not just rely on her skincare line to maintain her beauty. She has stated that she has relied on botox as well as other beauty treatments to maintain her looks.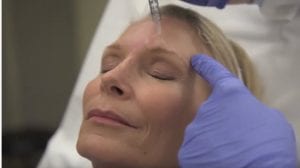 Not everyone can afford botox or surgical procedures for anti aging, nor does everyone want them. So this raises the question as to whether using the MB line of products is helpful and basically better than nothing. What it all indicates is that the products are not miracle products. That doesn't mean that they are not beneficial.
The Results:
There are a lot of mixed reviews as to whether this line of skincare products is all that it is cracked up to be. However, it is still going strong after many years, but this raises another question?
Is it still going strong because it is proven to be a very efficient skincare line? Or…
Is it still going strong because the company is still involved in heavy marketing?
Looking At The Reviews:
To get somewhat of an accurate picture it means looking at the feedback of those real customers who have tried the product for themselves and having nothing to gain by offering a review whether it is negative or positive.
The 5 pkg introductory product system out of 283 reviews received a 4 star rating. When looking at the individual products they vary in the ratings with some of the products being like more than others.
The Cost
The price is a big factor when it comes to skincare. You don't know whether you are paying for the name. Or whether you are buying into the hype or whether it is based on the quality of the product.
The 5 piece travel kit can be bought on Amazon for $44.85. BUT keep in mind these are the travel size so they are very small. So for example, if you were going to buy the regular size of the Serum for one ounce you would pay about $39. This is not a cheap product nor is it super expensive either.
The Take-Away
We have looked at the MB product line realistically. Which means pointing out that there may be some negative aspects to. However, there is no skincare product on the market that can turn back the clock when it comes to aging. No matter how much they may allude to this.
The key with a product line such as this is to consider it as a preventative. Keeping the skin clean, moisturized and protected from the sun are the true secrets to skincare that works. All of the products within this skincare line are capable of doing this. So over all the products have a lot of good quality ingredients in them, and it is reasonably price.
Please share with us your experiences with the Meaningful Beauty Skincare line.