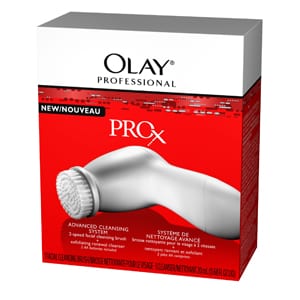 Olay Pro X is a line of anti-aging products from Olay that purports to be a professional grade of product. There are plenty of brands for you to choose from when you are looking for skin care products to reduce the aged look of your face and other areas, but Olay might stick out to you since it's been around for so long. It's almost a household name, which some companies hide behind and push substandard products based on a name they made for themselves decades earlier. So let's see if this is the case, or if Olay is still making quality stuff.
Overview
You're probabably familiar with the Olay brand, they used to be Oil of Olay, but they simplified the name down. They make lots of different skin care and beauty products, and it can be a little overwhelming to try to choose from among them. The Pro X products are specifically for those wanting to fight the signs of aging, and has a host of products that are meant to be used either in conjunction with each other, or on their own in an effort to properly care for your skin and appearance.
The Claim
Olay Pro X claims that this line-up is professionally designed, and tailored to specific problems you may be having with your skin. They've got a wrinkle treatment if those are giving you trouble, or an eye restoration product especially for the areas around your eyes. They've also got a skin tightener if you've noticed that your skin has been getting looser and less firm. They've also got cleansers and moisturizers that are meant for daily maintenance so you can keep your skin looking its best.
The Hype
Olay has the cash to promote their products pretty heavily. It's a multi-billion dollar brand for Proctor & Gamble and they promote it pretty heavily to keep those numbers up. The thing you have to watch out for here is sometimes a product or line of products can be popular just because of a clever advertising campaign and having it available in stores. It's important to see how these products are being evaluated, and see whether it's a good buy or try.
The Cost
They say that Olay Pro X is now more affordable, with lower price points. Even the most expensive product in the line, the cleansing brush, can be had for around $20, with other items in the Pro X line up clocking in around $10 to $20. For beauty and anti-aging products this is a very reasonable price point.
The Commitment
With a product like this, you'll want to use it each day as directed, and not look for immediate results, but rather take a long-term approach and be patient with the process. But applying each product to your face shouldn't take much time at all, and if you incorporate it into your daily skin care regimen you'll hardly notice any increase in the amount of time it takes you to get ready each morning.
Evaluation
One of the more interesting products in the Olay Pro X line is the Advanced Cleansing system. It comes with a facial cleansing brush, which is what gets most people's attention from the commercial. This has three speeds and can be used in the shower since it's water resistant. The brush head is replaceable, and gentle enough to use on the face so it's OK for those with sensitive skin. It's meant to exfoliate while it cleans, so you're left with a fresh, fully clean feeling once you're finished. At least that's what they say, but let's see what actual users say:
Almost everyone that tries this brush out at least likes it, with most professing their love for it. Other products in the Pro X line get similar reviews, with so many people trying them out that the feedback can't be ignored. With some products it's hard to tell if the ratings are significant or not because not many people have tried them. But with this product line there have been thousands and thousands of people that have bought them, and hundreds have chimed in on how well it works. This means there's a strong chance you'll like it as well.
Final Olay Pro X Review
The Olay Pro X line is getting our Thumbs Up review. Olay is one of those companies that sells a ton of products and has a strong following of women that swear by the results. But they don't rest on their laurels and they're always trying to improve upon themselves. The volume of people reporting that the Pro X products are solid can only mean that the majority of those that try them will be happy with them. Of course there is always that one person out of five that won't like it, or won't see the results they wanted, but that's true about most any product.
Our Recommendation
Since this is readily available at your local grocery store or supermarket, and is reasonably priced, it is easy enough to try it out and see how you like it. The worst case scenario is you waste a month trying it out and relatively few dollars. With such a small potential risk, and such a big potential gain, it's definitely a solid try. You can either go with one of their kits, or you can try out products singly and see if there's one or two that you can't live without.
What do you think? Does Olay Pro X work or not?