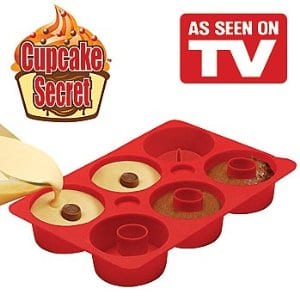 If you've grown tired of ordinary cupcakes, Cupcake Secret might be just the thing to liven them up. The idea is that you can make cupcakes that have a surprise treat in the middle, either a filling, or a piece of candy or other yummy insert. It sounds like you could make some satisfying desserts with this, but let's see if it actually works.
Overview
The end results here is like a cross between a cupcake and a jelly doughnut, since it looks like an ordinary cupcake on the outside, and only after biting in to you realize that there's something more. These would be great for birthdays when you send cupcakes in for the class, or for parties, or any other time you want a sweet treat and are feeling creative.
The Claim
Cupcake Secret claims that with their silicon tray you won't have your cupcakes stick to the pan, and they'll come out perfect every time because they have steam pockets that insure moist and delicious cupcakes. They say the trays are dishwasher safe, and that you'll be able to come up with lots of cool ideas with the guide book they give you filled with all sorts of different cupcake combinations you can make.
The Hype
It's really just desserts and cupcakes here, so it's not like it's going to win any awards for invention of the year, but it can add a nice bit of novelty to dessert time and be a fun thing that can bring your family together if everyone gets involved. They'll definitely want to be involved during the eating part, but you can also let them help fill up the pans, and insert the centers.
The Cost
Cupcake Secret is $29 shipped to your door and gets you two of the trays so you can make a dozen cupcakes at once time. It also comes with the inserts so you can choose between making cupcakes with a hole in the middle, or making it so there's a treat suspended in the middle of the cupcake. They have a 30 day money back guarantee, but it's only good for the $15 price tag and not the $14 shipping they charge, which when you factor in the cost of shipping it back most people will just say forget it.
The Commitment
Depending on how much you bake and make desserts this is either going to be an increase or a decrease in the amount of time you spend in the kitchen. Avid bakers might find that this makes the process of baking delicious and unique cupcakes easier. If you're not really a baker and don't make a lot of desserts at home, you might find that you start making them more often. Overall though this should be looked at as a time saver, and something that will add a lot of value to your quality of life.
Evaluation
Cupcake Secret uses silicon instead of a metal pan. If you've never seen this before it may look a little strange at first, and you might wonder if you can get good results with it. The overwhelming majority of those that try out silicon bakeware say that it works like a charm and is great at making the baked goods pop right out and not stick. This is really important when you're trying to make cupcakes like these, because if you have to break them apart or if they crumble as you're getting them out, they're not going to maintain their shape or have their surprise center.
Final Cupcake Secret Review
Cupcake Secret is getting a Solid Try rating from us, based on the novelty factor here, since there's really no limit to the kind of treats you can make with this. It comes with an idea guide, so you can recreate some of the things they suggest, and these will get your juices flowing and you'll likely come up with adjustments and change them up so they're perfectly customized to your own likes.
For example, you can take bits of your favorite candy bar and place them in the center on the hiding posts they include. This means you could have chocolate cupcakes with chunks of Heath bar, or Snickers, or mini Reeces Peanut Butter Cups. It them becomes a matter of how many different candy bars you like, and how well you can manage to make them fit into the center. It will be really hard to go back to ordinary cupcakes after that.
Our Recommendation
When building up your arsenal of kitchen tools you'll basically have your essential devices and your nonessential devices. This one wouldn't be a necessity, but as far as a fun factor and making you the cupcake pro on your block, this is something that you'd want to seriously consider adding to your kitchen.
What do you think? Does Cupcake Secret work or not?