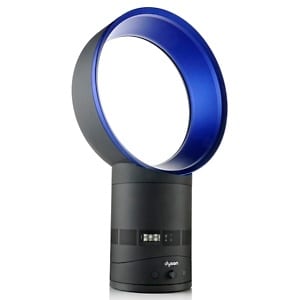 You may know of Dyson from the innovate vacuum cleaners, but the Dyson Air Multiplier is attempting to reinvent the fan market. Few can argue that their vacuum cleaners are pretty impressive, and when they first came out there price was rather high. They seem to be taking the same approach with their newly redesigned fans, so is this something you should get in on, or wait a while on?
Overview
The story goes that the inventor of Dyson vacuum cleaners was rejected repeatedly by the major vacuum cleaning companies, so he started his own company. He probably didn't shop is an idea around to the fan companies. He has a knack for making products that take the ordinary and make them extraordinary. I can still remember the first time I saw a Dyson Air Multiplier in action. It was at a Bed Bath and Beyond and it made me stop in my tracks and stand in front of it for a while.
The Claim
The Dyson Air Multiplier Claims that it, well, multiplies air. They say that it puts out 15 times more air than it sucks in. The most interesting feature is that it doesn't include blades, and the Dyson folks say that this makes it so you don't get the buffeted, choppy air that you get when using an ordinary fan.
They also say that because of their innovative design they are safer than ordinary fans, as well as quieter.
The Hype
The hype trickles over from all the success they have experienced with their vacuum cleaners. It's hard to deny that there vacuums back and better than ordinary uprights. They've also started showing up in public bathrooms with a state-of-the-art hand dryer. It seems that the Dyson engineers have brain power to spare, and are always coming up with new inventions. The other hype comes from what an attention getter the Dyson Air Multiplier is. When you first see it in action it's hard not to do a double take.
The Cost
This is where the Dyson Air Multiplier loses a few fans, no pun intended. Right now it is clocking in at $300 for the basic table fan, and $450 for the tower fan. This might seem exorbitant for something that isn't a necessity. So is this something that is reserved for those with a bunch of disposable income, or should the Regular Joe save up for one and get one too?
The Dyson Heater
Dyson has also released a new heating system which basically is a Dyson Air Multiplier with a heating element added to it. It is supposed to heat your entire room before turns itself off. It does this by monitoring the incoming air for temperature, and clicking off when it finds out that the desired temp has been reached.
It make sense to think that by combining the innovation of the Dyson Air Multiplier with a smart heating element that doesn't get you hot because as Mr. Dyson says you don't want to burn dust and get that "burnt dust smell", that this would be a winner. Early reviews of this product are saying that it makes the grade.
Evaluation
The biggest thing people want to know is whether or not the Dyson Air Multiplier is worth the price tag. For that answer, we need to compare it to an ordinary fan and see if it really provides enough extra benefit to justify its higher price. This is definitely a high-end unit and isn't right for everyone. You definitely have to be a fan of Dyson and be something of a tech not in order for this to be a satisfying purchase.
That being said if you don't mind paying extra for fancy things you probably really like the Dyson Air Multiplier. It addresses all of the common complaints people have with ordinary fans, including the noise and the lack of performance in cooling down a room and circulating the air.
You can trust that Dyson will always be trying to one up themselves and tinkering with their inventions. They've already added a remote control feature to the air multiplier, they've already released the heating system. You can also tilt the fan with one touch so you have more control over where the flow goes.
Final Dyson Air Multiplier Review
Dyson seems to have done it again, and are poised to reinvent the fan market. Over time, the price will likely come down so more people can own one. Until then, if you're an early adapter you want to jump on board and grab one before becomes mainstream. It's a great conversation starter, and it will make you feel like you're living in the future, the same way you do when you see a Segway rolling down the street.
the reviews of common and some of them are mixed, but the negative reviews seem to focus mostly on the price and whether or not there is value for your dollar here. This is something called cognitive dissonance, and increases with the price of something. These people are likely just having buyers remorse because they spend money they didn't have and were expecting way too much.
Our Recommendation
while we don't recommend this to everyone, that's mostly because of the price tag. If that doesn't bother you, we definitely recommend picking one up. It's a great fan to have in the bedroom if you like to sleep with a fan on. It's quiet, and it does a good job of circulating the air evenly so you don't have a strong breeze on you while you're sleeping.
What do you think? Does Dyson Air Multiplier work or not?