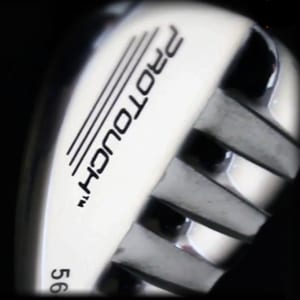 If you're a golf fanatic, you're always trying to get your handicap down, and the ProTouch Wedge would definitely catch your eye. It's unique design makes you wonder if it's legal, and they say that it conforms to the PGA rules and regulations. They also say that many golf matches are won and lost in the short play. So does it actually work at helping you get onto the green more easily?
Overview
As you know, the golf game can be broken down to three distinct areas. The drive, getting to the green, and putting. While a lot of emphasis gets placed on driving and putting, a crucial aspect is the short game. If you recall Happy Gilmore had an excellent drive, but it was his putting that killed him. If you're a good putter, and good at driving, you just need to tighten up your approach. The ProTouch Wedge is specifically designed for this, but let's see what the claims are and how it measures up.
The Claim
You don't have to learn a new swing, just use the ProTouch Wedge and swing like you normally do. The technology in the club will do the rest.
The bunker is the one spot that most golfers dread. Many strokes are added to scores from people trying in vain to get out. The ProTouch wedge is specifically designed to help you out of this predicament, thereby allowing you to get onto the green, even when you're stuck in the sand. They say it will get your out of the bunkers the first time, every time.
The Hype
Most golf products come with a bit of hype, because they prey on your desire to want to be a better golfer, impress your buddies, and basically just have a better time while you're out there. Anything that says you don't have to change your stroke in order to have a better game is dabbling in the hype.
The Cost
The ProTouch Wedge comes in two degrees, either 56 or 60 and they're both the same price at about $100. You can double up and get both for $150, a savings of $50. In the world of golf equipment this is very reasonable, and with the 30 day guarantee, how can you go wrong. Just be sure to schedule a round of golf or a trip to the shooting range within that timeframe.
The Commitment
Even though they say that you don't have to change your swing, you will still need to adjust to using the ProTouch Wedge. Once you get used to the way it effects your shot, you'll be able to use it properly to get the results you want.
Evaluation
You can see that some design and technology went into this club. It doesn't look like your ordinary wedge, and that's the point. It is designed to cut through things like long grass and the sand in bunkers and give you a clean, crisp shot that sends the ball right where you intended it to go.
As technology improves you'll see more and more golf clubs being invented and promoted. A lot of attention gets placed on drivers and putters, but not many companies are out there trying to revolutionize wedges. It's nice that they've created a club like this,
What People Are Saying
The overall response has been positive. Most people say that it has helped their game, and they would recommend using it. A small number of people have said that they didn't notice any change, or that it hurt their game. Every golfer is different, so it's impossible to design a club that works for everyone every time. If you use it enough, and see the effect that it has, you'll be able to adjust your strategy, and this will allow you to get the full benefit from it.
Final ProTouch Wedge Review
While you probably won't become the next Tiger Wood (in regards to his golf game, not his mess) you can have a more relaxing game of golf, and not panic when you hit your ball into the rough or have to blast your way out of a bunker. Since this can take the fun out of things in a hurry, you can get back to the real reason you play, and not have it be so stressful.
Our Recommendation
Definitely get on board the ProTouch Wedge bandwagon. At this price you'd be silly not to at least try it. It might look funny, but it's designed specifically for one purpose. As long as you have an awesome driver and putter, this will fill in the missing gap, and be a big help to your game with a little feeling out period. If you don't like it, just return it and no harm done.
What do you think? Does ProTouch Wedge work or not?