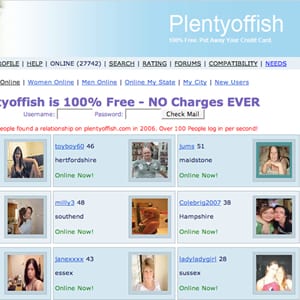 Plenty of Fish may not be as recognizable as its main competitors, but that's because they rely mostly on word of mouth and don't spend a fortune on advertising in the media. You might be wondering if it works as good as the other options online, because as they say you get what you pay for. So does is dating site break the mold, or reinforce this common saying?
Overview
There are only a few major players in the online dating industry, and Plenty of Fish is one of them. Their initial slogan was "put your credit card away", indirect response to complaints made on other dating sites that charged in order for users to see other people's profiles. These days they themselves offer a premium upgrade, but they still rely heavily on people signing up for free and interacting with their site on a daily basis.
The Claim
Plenty of Fish claims that you don't need your credit card in order to sign up for their service. This differentiates them from their competitors like Match and eHarmony, where you have to pay a monthly fee in order to use all of the features.
They say have more dates set up, more relationships made, and more visits to their site than any other dating site online. Those are some big claims because most people are familiar with their competition, who advertise heavily on television and online. But Plenty of Fish has made a name for itself by being the no-cost alternative to the big boys, and it seems to be paying off.
The Hype
Online dating sites carry a bit of hype with them because they all claim to have been the reason why real life couples have gotten together. For those who have never met anyone online this seems sort of like a Bigfoot sighting. You've heard that it exists, but you never really seen it in real life. It makes sense that it could exist, but you have your doubts as to whether or not it could happen to you.
The Cost
Plenty of Fish is free and is supported by advertisements placed next to all of the features. This means it doesn't cost anything to sign up, you can talk to all of your matches without paying, and you don't have to upgrade your service in order to take full advantage of it. They do offer a premium service, which unlocks some additional features but is not necessary in order to get the full experience.
The Commitment
All dating sites require you to be committed if you want them to work, and Plenty of Fish is no different. In fact, you may have to be a little more committed to using this site and others. Since it's free to use there are tons of users on it that are very serious about finding someone. This means you may have to sift through a lot more riffraff before you find quality users. It also means you should spend some extra time creating a nice portfolio for yourself set yourself apart from the thousands of others.
Evaluation
Plenty of Fish has been around for well over six years now, and they don't show any signs of slowing down. The site owners made a lot of press for making so much money from ads, and creating so many page views with all of the profiles being looked at. No one can argue that their site has a lot of activity, and activity is something that you want to see from a dating site. You want users to be engaging with the content, talking to each other, and using it the way it's supposed to be used.
The interface is very simple, and always has been. Plenty of Fish does not rely on a lot of flashy graphics. They're more about letting the profiles speak for themselves. You should definitely give their psychological profiler a chance, and see if it helps match you with other people that have similar lifestyles and interests. It's a direct response to the eHarmony questionnaire, and they say it will give you a different look at yourself.
Final Plenty of Fish Review
Just because it doesn't cost anything to use Plenty of Fish doesn't mean it doesn't work. It provides the same sort of platform as its competitors, but instead of charging the users directly it gets its money from advertisements. It also has a matching system in place that was developed by the site owner so it's not just a shot in the dark.
It is interesting to note that the site owner is actually making improvements to the site as it goes along. Many webmasters would be tempted to just sit back and collect the cash. By setting up a profile there you know that there'll always be new features being added which will increase your chances at finding love.
Our Recommendation
If you're serious about finding someone for a relationship, this is a great place to start especially if you don't want to put up a cash investment to get started. If you want to hedge all of your bets it's best to use all of the dating services out there to see what you can attract. A comprehensive system would involve using eHarmony to find a long-term relationship, Match to find a date for the weekend, and Plenty of Fish because you just never know where they might be hiding.
What do you think? Does Plenty of Fish work or not?