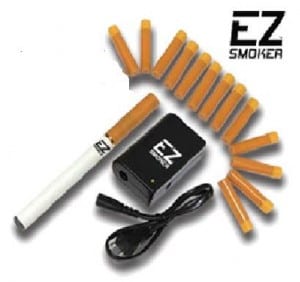 EZ Smoker is just one of the products out there trying to cash in on the recent trend of electronic cigarettes. If you've thought about using an e-cig to stop smoking, or to be able to smoke in places where smoking is prohibited, you might have thought that EZ Smoker looks like a good deal, and that it would provide a good experience. Many people have thought the same thing so we just had to answer the question of whether or not it works.
Overview
E-cigarettes are designed to mimic the act of smoking, but provide either no health risks, or a drastically reduced risk to the smoker. You can use these as a way to replace smoking, basically using it as a smoking cessation device. The other popular way to use it is when you're in a place where smoking isn't allowed, most typically a restaurant, or perhaps at work, or in your own home if your spouse isn't a smoker. So how does EZ Smoker stack up as a cigarette alternative.
The Claim
There's no flame, ash, or tar that you get from smoking a real cigarette. It still produces smoke vapors though, even if they say it doesn't. Even the people in the commercial are shown inhaling and exhaling smoke, as the announcer is saying there's no smoke. They call it a smoke-like odorless vapor. No toxins like you find in regular cigarettes.
They also showcase the fact that the EZ Smoker will shut off automatically so you don't waste the battery when you're not using it. One feature they fail to mention is that you won't have those stinky, yellow nicotine fingers, and you won't leave your clothes smelling like smoke. You also won't stain your teeth or have smoker's breath. There's plenty of reasons why you should use EZ Smoker instead of your regular smokes.
The Hype
The promo shows a smoker using it in a restaurant, and when told to put out the cigarette, he shows the waitress that it's not real. It's unlikely that a electronic cigarette like EZ Smoker is going to go over too well in places that don't allow smoking, even if you explain to them that it's not a real cigarette. People will still see the smoke emanating from it, and not want to be around it or inhale it.
The Cost
The free trail offer is set up so that you just have to pay $9.95, of course there has to be a catch. If you decide to keep it after trying it, they will automatically enroll you in their auto-ship program. Just be sure to call and cancel if you're not impressed with it. No big deal.
The Commitment
It can be strange using an electronic cigarette for the first time, and as much as they try to make it like a real smoking experience, it does fall short in some areas. You have to stay committed to using it as an alternative to actually smoking if you're trying to quit, and you may feel a little silly using it in places where smoking is prohibited, and trying to plead your case when people tell you to stop.
Evaluation
Even though e-cigarettes have had their fair share of time spent being debated by the FDA and the US Court of Appeals, it seems they are still undecided as to whether they are helpful or harmful. It's really a matter of personal opinion, if you think it is working for you, or you enjoy it, then it's good, and no one can dispute that it's better for you than smoking.
As far as the performance of EZ Smoker goes, they hit many characteristics of a true smoking experience, and therefore you can definitely give it a try to see if it's close enough to the real thing to make you stop smoking. People have been saying that in the world of electronic cigarettes, EZ Smoker is not bad. There are some high-end models that are a little nicer, and there are some cheap knock-offs that are worse, but this is a nice middle that is affordable if you stay on with it, and delivers on its promises.
Final EZ Smoker Review
There are a lot of good factors about the EZ Smoker. We especially like that it doesn't include carbon monoxide, and doesn't produce any second hand smoke. While there aren't any health benefits to using it, it definitely is a healthier alternative to smoking regular cigarettes, so it's worth a try. Some people won't like it, and that's fine, but if you like it and it works for you, then it could be a life saver.
Our Recommendation
If you've tried to stop smoking in the past, and have yet to trey electronic cigarettes, you should definitely give this a try as they offer a free trial. Just be sure to call up the company and cancel any further transactions if you don't like it. You have a full 30 days to try it out, and this is plenty of time to receive it, assemble it, and put it through its paces.
Even though the temptation to smoke a real cigarette will still be there, the thought is that this product should get you close enough so that you can overcome those urges and stay smoke free. Eventually you can even wean yourself off the EZ Smoker and not have to worry about either one.
What do you think? Does EZ Smoker work or not?