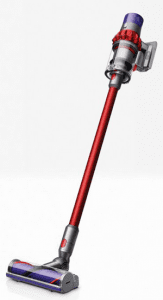 . Dyson is always had a reputation for putting out some of the best vacuums, even though they generally cost more money than some of the other competitors. The Dyson Cyclone V10 Absolute that they have introduced now has now revolutionized their companies mandate in a sense that they will not make any more corded vacuums, instead just utilize this cordless unit that will take the company into a new level.
Overview
More and more companies that produce vacuums are looking at making them battery operated compared to the old corded models that were available. With this new Dyson Cyclone V10 Absolute, they have decided that because this is so good and so powerful, that they do not need to create any more corded vacuums, because it is able to take care of all of your problems with a simple battery charge. In addition, the motor they have created for this new unit is stronger than anything they have ever made before and the suction power far exceeds any of the cord vacuums on the market.
The Claim
The claim with the Dyson Cyclone V10 Absolute is that you will have incredible suction and better cleaning than most, if not all, of any corded vacuums on the market. It has an outstanding battery life and it's amazing design tools that help for cleaning will give you much better results than anything you have used before. This unit is unbelievable for plain floors, as well as carpets, and it is great for stairs and for people that own pets. When you run it to the side it will pick up right to the edge of any type of surface, which is always an issue, especially when you have kids or animals where things are always tucked into the corners. The filtration is excellent, there are 3 powered floor heads, and it includes three detail tools for extra cleaning.
The Hype
The big hype with Dyson Cyclone V10 Absolute from Dyson is the fact that it promises 20% more suction than any other cordless unit that has been put on the market before. It's RPMS allows it to switch into high gear in mere seconds and what makes this vacuum totally different than others is it that it has barometric pressure sensors that actually can tell whether you are working upstairs, or down in the basement. With this sensor capability it is able to actually give your floor a better cleaning that matter where you live because of different higher altitudes. The main filtration system of this unique vacuum is capable of capturing 99.97% of allergens as small as 0.3 microns, meaning that you'll have a much cleaner breathing area then you have ever had before.
The Cost
The cost of the product generally runs around the $600 to $700 dollar mark.
The Commitment
The commitment of the Dyson Cyclone V10 Absolute is that it will provide you with th the best possible cleaning of any type of floor surface and with the new battery and its larger capacity for storing dirt, dust, and any other type of allergens, it will exceed any other type of cordless unit on the market
Evaluation
After evaluating the product there've been many great reviews on how well this works, especially with the improvements to the battery. It seems this unit can last a lot longer than most of the other cordless units on the market and even though it may be a little bit more expensive than what you want to pay, overall it will certainly give you the better results than any of the other types of cordless units available right now.
Final Dyson Cyclone V10 Review
Basically the review of the Dyson Cyclone V10 Absolute has been very positive but obviously the fact that it is far more expensive than many of the other vacuums on the market right now makes it out of reach for many consumers. Some people have complained that it is not very quiet when it is on maximum mode, but because the battery lasts longer than many others, it seems they have been forgiving because of the fact it is able to get the job done with one charge.
Our Recommendation
If you are looking for an alternative to the Dyson brand then take a look at the Shark.
What do you think? Does the Dyson Cyclone V10 work or not?