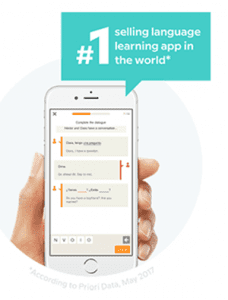 There are several different reasons as to why a person may want or need to learn a new language. There are also several different resources available to them to help them do this. Which presents another challenge of trying to decide which one is going to be the best choice. Before a decision is made it may be worth looking at what Babbel has to offer.
Overview
Babbel is an online resource for language learning. It is one of the paid versions of this type of product. Babbel offers the opportunity to learn thirteen different languages.
The Claim
Babbel claims to be the number one language learning selling app in the world. They claim that those who use this resource will learn how to speak a new language with confidence. Their focus is on teaching the language of choice so that it can be used in everyday circumstances. They use speech recognition technology to ensure that learners are speaking correctly. Babbel is also offered in short lesson increments which makes it much easier for learning and for memory retention.
The Hype
The hype around Babbel probably lies with their credibility. The company has been awarded as the most innovative education company in 2016.
The Cost
The cost for Babbel is going to vary between $6.95 and $12.95 monthly. It is indicated that the first lesson is free. Also costs are reduced if several months are paid in advance. They also may offer a 20 day money back guarantee.
The Commitment
The commitment for Babbel is a big one as it is a learning resource. Anyone that wants to learn a new language has to be committed to the time it is going to take to learn it. Consistency is going to be important if one wants to advance through the Babbel lessons. Each person learns at their own pace and this requires their own level of commitment.
Evaluation
Reviews are always going to vary because they are based on each persons perception. When it comes to a product like Babbel the review is based on the individuals experience. Some people learn easier than other. Overall most will say that the quality of instruction in Babbel is very good. Some of the negative aspects depend on the specific language being learned. The amount of content available is going to depend on the language being learned. Some individuals are not happy with there not being any tutoring or podcasts to assist with the learning. The approach that Babbel has taken is with the emphasis being on the repetitive listening and writing.
Final Babbel Review
We are going to give Babbel a thumbs up. It is comprehensive, offers an excellent choice of languages and can be considered inexpensive. Individuals can learn at their own pace and it can be done online which adds to the convenience of learning.
Our Recommendation
It is always good to have choices when buying a product such as this, and in this case one may want to take a look at Rosetta Stone.
What do you think? Does Babbel work or not?