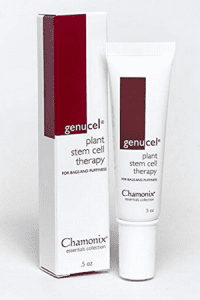 One of the many complaints that a lot of people have when it comes to their appearance is puffy eyes, and bags under their eyes. There are several products that have been developed to help with this and one of these is Genucel.
Overview
Genucel is comprised of plant based stem cells formulated as a treatment to help with the appearance around the eye area. It is made by the manufacturers Chamonix.
The Claim
The promoters of Genucel claim that this product is part of a collection of products that have been clinically tested. These are products that are geared towards anti-aging. The claim is that these are based on the Swiss Apple Plant Stem Cell technology.For the eye area it is being promoted as being able to help with eye bags and eye puffiness.
The Hype
The hype for Genucel revolves around the terminology plant stem cell therapy. The word "stem cell" in any context has become a buzz word recently.
The Cost
If one is ordering from the official Chamonix site promoting Genucel then the pricing can get a little confusing as there are different offers. The essentials package is $99.95 which includes the Genucel Plant Stem Cell Therapy plus the Genucl immediate effects. This package is a one month supply. Another offer is the promo package which is $129.95 and is a two month supply that includes 2 Genucel Plant Stem Cell Therapy, Genucel Immediate Effects, Genucel XV, Genucel Eyelid Treatment and Cristalles Mircodermabrasion. In addition to this there are other packages.
The Commitment
As you can guess depending on what package you buy the more commitment you are going to have to make because they include more products. No matter which one you choose you are going to have to commit to using them as directed.
Evaluation
There is a lot of marketing being done for Genucel including television commercials. If one looks at the ratings for Genucel on the official site it indicates a four start rating. The product is available on Amazon but the ratings here do not support what the site is indicating. On Amazon Genucel is only receiving a two star rating based on 36 customer reviews. The major complaint from those not happy with the product is that they are not seeing the results they expected. In fairness it has to be said that everyone's degree of problem will vary because everyone is an individual. But, at the same time with the hype that is surrounding the product it is indicating that impressive results should be realized and for many this just not seem to be happening for at least many of those out of the 36 who left comments.
Final Genucel Review
Genucel is getting a Try/Buy rating based on if you have tried other options and they don't work for you then you may be willing to try something else. This product is not cheap so this will have to be taken into consideration as well.
Our Recommendation
Another alternative that we talked about in the past is Hydrolyze so you may want to check this out as well.
What do you think? Does Genucel work or not?