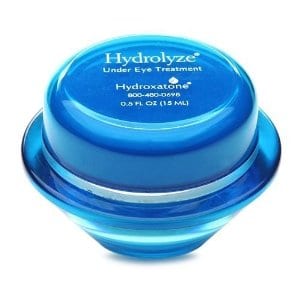 Those that suffer from lack of sleep and the signs that this condition can leave on the eyes can now be cured by Hydrolyze. It is a cream that can be applied directly to the area under the eyes and will reduce the puffiness and blackening that is caused by tiredness.
Overview
Dark circles below the eyes can occur from a number of different reasons namely, lack of sleep, excess stress, the environment and general DNA make up in the genes of an individual. What ever the cause, dark circles are extremely irritating and can also be hugely embarrassing for the unfortunate individual.
The Claim
The researchers behind Hydrolyze claim that they have done some extremely intensive studying into the cause of dark circles and have concluded that it is a feature which occurs in some individuals that have fragile capillaries' around the eyes. These will often leak when they are in bad condition and create the puffy and black effect. Hydrolyze claims that there product works beyond these issues to strengthen the capillaries and "Revive your youthful charm".
They also state that their product will "Make dark circles a thing of the past" which gives an impression that the cream will completely cure the individual of black and puffy eyes and that the effects will last.
The Hype
Those that suffer from black puffy eyes are often highly embarrassed of their condition when it occurs and will then have their own self confidence knocked back a peg or two. This is a horrible emotion to place on anyone and so a cream that will solve these bad aesthetic effects is a welcome product and can allow sufferers to come out of hiding and enjoy their life once more.
The Cost
For a single tub of the Hydrolyze cream, you are looking at paying something in the region of $60 which is by no means at all cheap. This price will get you a 5.5 ounce tub of the cream which on recommended usage should last the user between one and two months.
The Commitment
The primary user of this cream will be women although research is showing that men are becoming more and more beauty conscious and therefore also now likely to purchase such a product. Therefore, the commitment is easy, the cream rubs directly into the skin and so leaves not traces of white substance and can therefore be used throughout the day without any worry.
The commitment required by the user is very small and simply requires the application of the cream to the area of skin below the eyes. This couldn't be any easier for the user to gain such great results.
Evaluation
This product weighs in with a fairly hefty price tag which is by no means a crime but does make a big statement that this product "should" be reliable and do its job better than other forms of cream. Sifting through multiples of reviews can be time consuming which is why we have take that chore away from you and done it ourselves.
The main overriding theme of this product is that it was not people initial treatment for the issue of dark rings around the eyes owing to its dear price, but it is quite commonly seen that people that have tried other cheaper options that have not worked, have switched to using Hydrolyze and found that results were being seen in just a matter of days. This is an extremely strong and positive indicator that this is a good product. It is hard to find a bad review that does not relate to the price of Hydrolyze for the size of the container.
Does Hydrolyze Really Work?
From the market research that has been undertaken by reading multitudes of online reviews of customers that have bought this product, it is clear that this product does work as an agent for removing dark shadows beneath the eyes.
Our Recommendation
The relatively high price tag of Hydrolyze will price many consumers out of the market straight away; we guess that the question that has to be asked is how much you really want to clear up the problem of black eyes. If the answer is terrible because the dark eyes are affecting your self-confidence and perhaps even career, then this product is strongly recommended for you and you will simply have to bear the brunt of the price tag.
However, if you occasionally get black eyes then spending the best part of $100 on a treatment does not make sense.
What Do You Think? Does Hydrolyze Really Work?