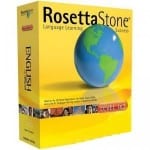 If you've ever wanted to learn a new language and have heard a promo for Rosetta Stone you've probably thought about trying it out and wondered if it works or not. Learning a language is easy for some, and can be very difficult for others, so there's no real way to tell if it will work for you unless you give it a try for yourself and weigh the results.
Overview
There are three major players in the world of language learning for the new era. There is Rosetta Stone, Pimsleur, and Rocket Languages. Both abandon more traditional methods of language learning in favor of newer methods that leave behind books and stick mostly to audio and visual stimulation.
The Claim
Rosetta Stone claims that you can carry on a conversation with a native speaker of a language by following their programs from beginner to advanced. They further claim that their software is award-winning and used by high-ranking people that need to know other languages in order to perform the job that they do.
The Hype
The hype starts off in their radio and television advertisements that show people stating that they were able to learn a new language by following the Rosetta Stone system. There is no way to tell if it's a paid actor or a real user. If it is a real user this really means nothing, because finding one person that successfully used the system out of thousands of people that tried it should be no difficult feat.
The Cost
The cost of Rosetta Stone is a little off-putting, and almost makes it prohibitively expensive. Unless you're really bent on learning the language and are fully invested in sitting and following all of the programs, it's probably a good idea to save your money and get a book from the library.
The Commitment
Rosetta Stone may have some proprietary methods that make a language easier to learn, but you'll still have to be the one that does the learning. No one can learn the language for you, and it's not a subliminal program so you'll have to give it some effort and put the time in.
Evaluation
By taking away the traditional methods of learning a language using rote memorization, Rosetta Stone takes a unique approach that makes it livelier and more high tech to learn and use a new language. Since there are many different ways that people learn, this new system will work for some, but others might find it better to learn by writing and reading, rather than with pictures and audio.
Does Rosetta Stone Really Work?
Rosetta Stone provides and engaging environment for language learning and if you've got a strong desire and a strong commitment to following it through all of its levels you'll no doubt be able to converse with native speakers across the globe.
It is not an end all though, and should not be the only device you use in order to learn a language. Get a language partner, do a language exchange, visit the country where they speak that language as their first language. Only when used as a comprehensive approach will you get the results that you seek.
Our Recommendation
If you've got the extra cash to drop on it you should try it out and see if it works for you. If it blends with your style of learning it will probably have good results for you, but if you learn in a way that is not conducive to the program, you'll have to keep trying different methods until you find a way that works.
Read user reviews on Rosetta Stone
What do you think? Does Rosetta Stone really work?