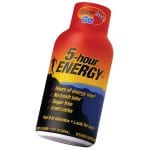 Today's current climate see's many people working long hours or even having 2 jobs just to make ends meet and keep afloat with their payments and commitments, which has given Five Hour Energy a huge market to work and sell in.
Overview
Five Hour Energy is a supplement that is sold in a bottle containing 2 fluid ounces of the energy drink. As its title suggests it gives the consumer a long lasting energy burst and can aid with mental stimulation. The product was first introduced to the US market back in 2004 and has steadily grown in popularity and sales. But is this justified?
The Claim
The first claim that 5 Hour Energy makes with their product is clear to see by the name. It claims to stimulate the body and mind for at least 5 hours with a single shot of their drink. This goes far beyond the effects that are seen with other energy drinks in the market and so appeals to sports stars and those that are taking long journeys as well as those that are generally tired from working hard and being in a busy family.
Five Hour Energy claim that you can drink their product in seconds and you will feel the effects of stimulation within minutes. No other energy drink on the market today has ever been reliably proven to act as quickly as this so it is another bold statement to advertise.
The Hype
Often at work the afternoon is known as the graveyard slot. This is where all the workers have eaten lunch and they then get groggy and need a nap. 5 Hour Energy can be taken just after lunch and this will then keep the employee going until the end of the working day ready for their journey home.
People have also noted that unlike other energy products in the market, Five Hour Energy does not leave them over-tired once the effects have worn off. This is a big positive and one that drives many away from drinking energy drinks like Red Bull.
The Cost
5 Hour Energy is normally sold in a pack of 12 bottles for which the recommended retail price is $25. Some local shops and stores also sell Five Hour Energy in single bottles that are usually sold between $2 and $3.
The Commitment
It is not recommended that 5 Hour Energy is used every single day with doctors commenting that it may weaken the kidneys and bladder earlier than nature intended. The recommended dosage for Five Hour Energy is to consume half of a bottle for a moderate energy boost and a whole bottle for maximum energy. With the effects occur almost instantaneously, sports starts like to drink half of the bottle before a big game and consume the second half in the interval.
The user does not have to do anything other than drink the energy shot and feel the effects. It is worth pointing out that the consumption levels should be monitored and the shot should be cut back if the user feels any adverse effects internally.
Evaluation
This product is great for the sports and leisure industry. It is non-carbonated, has zero herbal stimulants and sugar, and contains vital vitamins and amino acids as well as being only 4 calories. Those that visit the gym after a long day at work can get and extra energy boost which will allow them to burn those extra calories or have the increased energy that they need to lift that extra weight.
Five Hour Energy contains active ingredients that are primarily found in naturally grown foods and so does not contain as many horrible formulated chemicals which can effectively rot your internal organs after consumption.
Does Five Hour Energy Really Work?
Some of the leading sportsmen and women in the business vouch for 5 hour energy as giving them that extra boost of energy which is so vital to their trade. Busy businessmen have also spoken up and vouched for the usage of 5 Hour Energy by saying that it has given them increased performance in the workplace and greater productivity and output.
Our Recommendation
Five Hour Energy comes with a recommendation from us to get out and try it. It is extremely likely that whether you are performing in a sports match or even just struggling to stay awake at work that you will see positive benefits from using it. It is worth finding an outlet that sells the singular bottles to try out before committing to a box of 12 but the likelihood is that you will love the product and continue to use it on occasions of low energy.
What Do You Think? Does Five Hour Energy Really Work?