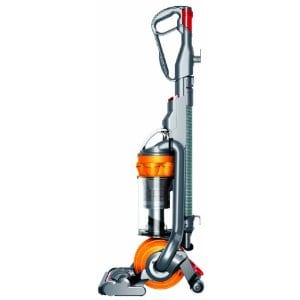 The Dyson DC25 uses the Dyson Ball technology, and the first time you see it in action you'll be tempted to at least try it. It has the Dyson reputation behind it, and it was one of the first models out that featured the ball, so is there anything holding this back from being a sensible purchase?
Overview
When you go vacuum shopping in a store they are usually lined up right next to each other and you can peruse them as you walk down the aisle. When you get to the Dyson model, your jaw will probably drop just a little bit when you see the price. The vacuum itself looks pretty similar to the other upright models, except for the yellow ball where there should be wheels, but you can't help wonder if this is really worth three times the price of a similar name brand vacuum.
The Claim
The Dyson DC25 claims that it can be used on all floor types, which is great to hear if you're used to switching out your vacuum for something like a Swiffer to get your hard surface floors. Since you won't have to switch out cleaning tools, you can get the job done quicker, and the Dyson is going to suck up anything and everything in its way. They say it has a washable HEPA filter so you don't have to worry about replacing that as it gets dirty. They also include a telescoping wand attachment that lets you get to places you normally wouldn't be able to.
The Hype
The name and the cost bring enough hype to any Dyson model. The only thing is, the hype is justified because it actually walks the walk. Word-of-mouth advertising has done a lot for this brand, and people can't help but recommend it to their friends. Once you get over the rather high price tag, you realize that you are getting value for your dollar here, and that's really what it's all about.
The Cost
The price of vacuums fluctuate as time goes by, and new models are released. The Dyson DC25 can be found for around $400 at online retailers.
The Commitment
The first feature that put Dyson on the map was their dual cyclone technology, and the next one that solidified their name in the vacuum industry was the ball. This model features both, and they should work in conjunction with each other to lessen the amount of effort and frustration you get from cleaning up your floors. This is also a great one to choose because of its multi-floor capability. Easily go from the living room to the kitchen without switching tools, and you'll be done in less time, with less hassle.
Evaluation
The Dyson DC25 will bend your perception of whether or not it is possible to love a vacuum. You might actually find yourself wanting to vacuum your carpets and floors, instead of dreading the task. There's a feeling of peace of mind when you finish vacuuming with a Dyson, you just feel like your home is that much cleaner. And there is no theory of diminishing returns here, it delivers the same sort of feeling each time you use it. There's really nothing that matches its performance right now, so you're much better off getting one of these instead of buying a cheaper model and having to buy another one next year and the year after that, suffering from floors that aren't their cleanest the whole while.
Why So Expensive?
It only makes sense that a company that does so much research and development has higher-priced products. Dyson hasn't competed on price since they first came onto the market. A higher price may add perceived value to the vacuum, but it's also clear that the manufacturing process uses higher quality materials, and the technology in their vacuum is far superior then other brands that have been around for decades. The price would've corrected itself by now if people didn't love the vacuum and weren't happy to pay it. But since there's no shortage of demand at the price they sell for, you know that you're going to get something special here.
Final Dyson DC25 Review
The Dyson DC25 gets our nod of approval, and is one of the best reviewed vacuums on the market. If you've never used a vacuum of theirs with the ball, you're in for a real treat. It makes moving your vacuum around the house a lot easier, and you can get around furniture better than you ever could before. The way it can pivot and make 90 degree turns without having to have you reposition yourself is something that you'll appreciate from the first use.
And aside from the ball, it's still got the great suction that Dyson is famous for. This means that it won't lose suction as you go along, and as the dustbin filled up. It's also got a lot of power behind it, so it's going to suck up more dust and dirt out of your carpet, and even from underneath the carpet, something most other vacuums won't do.
Our Recommendation
You can't go wrong with a Dyson. They consistently earn top ratings and rankings from people that actually use it, and you'll be surprised how much you pull out of your carpets after using it. If you ever do run into a problem, their customer service receives high marks as well, so you know you're in good hands throughout your entire Dyson experience.
What do you think? Does Dyson DC25 work or not?