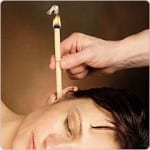 Ear candling is one of those New Age pseudo-holistic ways of cleaning out your ears. It's got just enough believability to make you wonder could it really work? It sounds plasable enough, you create a vacuum with smoke and it sucks all the gunk out of your ears, resulting in better balance and well-being.
Overview
Alternative medicine is always coming up with unique and interesting ways to deal with common problems. It also has a tendency to create problems where none exist, as long as it makes sense on some level. In this case they've gone after the ears as a cesspool for dirt and other toxins that leads to all sorts of other problems.
The beauty of this procedure is that it doesn't require any use of chemicals or other unnatural products. The thought is that by introducing some pressure into the ear created by the candle that it would dislodge the build up and allow it to rise up out of the ear. It sounds unlikely, but to those that believed it would work, it made sense on some level.
The Claim
Your ears are havens for germs and built up wax and toxins, and by using ear coning you'll be able to release all of this toxic build up and have a newfound sense of balance and well-being.
The Hype
The hype for ear candling comes from the world of alternative medicine in general. There seems to be a lot of hype surrounding most of the practices and many of the claims that are made. Each of them represents a mini battle between modern medicine and alternative medicine on a grander scale, and it pits the believers of alternative methods against scientists and medical doctors.
It's likely that even with substantial proof to the ineffectiveness of ear candling, there will still be some die hard believers that will continue to take part in it, believing that it's working and that they have less toxins in them than before they started.
The Cost
The costs involved in the procedure will vary by the person performing it. Since it is very low tech, and there isn't a lot of materials required, just the candle. The cost is almost entirely the labor or service fee for performing the task. With so much discrediting having been done, it may be a challenge finding someone that will do it for you, but if you do, don't let them charge you an arm and a leg.
The Commitment
No special commitment is required outside of finding a "qualified" practitioner that will perform the procedure on your ears.
Evaluation
Even when you first hear about how or why it works there's a part in the back of your mind that says it's quackery. It just doesn't make sense to begin with, and when you get the explanation on how it could possibly work, it only makes a smidgen of sense.
Does Does Ear Candling Really Work?
No. There's no hard evidence that the process would actually work the way practitioners say that it does. There's not a lot of medical evidence showing that it actually removes anything from the ear.
It's been disproved quite effectively by letting the candle burn by itself and not inserting into an ear. The same residue is left over which pretty definitively proves that it's not pulling anything from the ear, and if you're not careful might actually cause some of the debris to enter the ear.
Also, there is a chance that you might experience burns or other fire hazards if the process goes wrong. Seeing how there's potentially bad things that could happen to you, and very next to no good things that can come from this, it's not recommended to even try it.
Our Recommendation
Avoid ear candling as a way to clean out your ears. There are better ways to go about the process if you feel that there is too much earwax and other dirt and debris in your ears. If you're concerned about ear gunk build-up just ask your doctor at your next check up and see what they have to say. Most likely they'll say you're fine, but if they notice an excess of wax they may suggest a solution to soften it up for easier removal.
What do you think? Does Ear Candling really work?