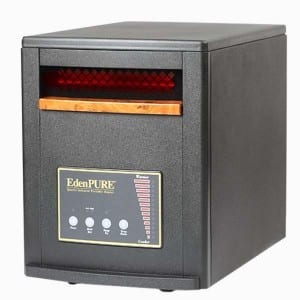 EdenPure heaters are supposed to use infrared heating elements to provide all-around warmth, and save you on heating costs. The big draw here is that you'd be able to set your thermostat lower, and use this in the main rooms where the family hangs out, or where you spend the majority of your time. But it can only save you money if it actually works.
Overview
It can cost a small fortune just to heat your home, and many times you end up heating rooms that aren't even being used. The premise behind using a portable space heater is that you put the most heat in the room you're using, while keeping the rest of the house at a reasonable level. It's a greener way of heating the home, and is the way it's done in many Asian nations. There are simply too many disadvantages to using conventional heaters, and a new line of next-generation space heater technology keeps trying to become the new norm.
The Claim
The makers of EdenPure heaters say that you can save money, and be healthier by using their line of portable space heaters. They say that it uses an infrared heating system, and that it's safer because there aren't any exposed heating elements. It's hard to argue that conventional heaters leave a lot to be desired. They typically only heat the area right in front of them, and take a long time to heat an entire room. The minute someone opens the front door all of that heat is lost.
They say this doesn't decrease the amount of humidity in the air, and therefore it won't lead to dry skin, itchy eyes, and other symptoms of too much dry, winter air. They also bring up that living in a house that's too cold can lead to poor circulation, which can present a problem for the elderly.
The Hype
They've got everyone's favorite assistant, Al from Tool Time, aka Alan Karn lending his credibility to this product. There is a very large advertising campaign behind this, and you may have seen an infomercial on TV, or a print ad in a magazine. They are really promoting these heavily, and have been for several years. There's no shortage on sales, and since some people are pretty happy with their heaters there is even some positive word of mouth going around.
The Cost
The price of an EdenPure heater will vary depending on which model you get. If you want the best one they offer, the Gen 4, it will run you $400. Compare that to the Gen 3 model at $300 and their other models that clock in at lower price points. It's pretty much a matter of how much you're looking to spend up front in order to potentially save money over the long term.
The Commitment
There's no major commitment on your part, the device arrives fully assembled so you simply need to plug it in and read the instructions on how to operate it properly. It would be a good idea to check for any drafts in your home so that it doesn't have to compensate for lost air.
Evaluation
The love/hate relationship with EdenPure heaters is something of a conundrum. It's unusual to see such divergent feedback for the same product. Either something works or it doesn't. Consumer Reports chimed in to suggest that these heaters might be a rip off, and went so far as to say that the model they tested was less than impressive. Consumer Affairs lists over 100 complaints, but of course this is skewed because it attracts those looking to complain, and doesn't present the other side of the story.
The major hang up we have with these units is that they should be a crowd pleaser if you're going to invest hundreds of dollars in them. Who wants to spend that kind of money for something that may or may not work? And why is there so many split reviews. It should work for everyone if it works. Why can't they produce a product that everyone can agree on, and one that doesn't need to be returned, as so many have said they had to do?
Final EdenPure Review
We're going to have to give the Thumbs Down on EdenPUre. It's just too risky of an investment, and at this price point you would expect to see more glowing reviews, and less of a split decision. If the price doesn't bother you and you don't mind potentially having to return the item at your expense, this may be worth a try, but we simply can't back it given all of the negative feedback it's received.
They say that you have 60 days to try it out, and they'll give you your money back unconditionally if you're not satisfied. But many people don't want to be stuck with the return shipping costs, and the hassle of lugging around a big heater if they make the wrong choice.
Our Recommendation
There is definitely a strong demand for a space heater than can cut down on the heating bill. Most consumers would be happy to have a slightly higher electric bill and save a considerable amount on their home heating costs. There are several different portable heaters to choose from, but none of them have been able to garner enough consumer support to warrant our Thumbs Up rating. We'll definitely stay on task and bring you our findings when we do manage to find one.
What do you think? Does EdenPure work or not?