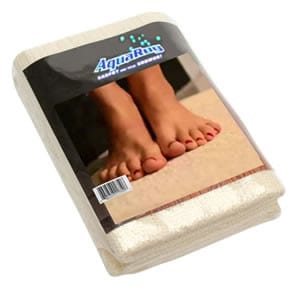 The Aqua Rug is for those that have always thought it would be nice to have a rug in the shower. They say that it's possible because this one won't get all moldy and gross, and so it can stay in your shower without a care. But how well does it actually do what is says it can do?
Overview
They run through all of the features for this shower rug, and most people didn't even know they needed one before seeing everything it can do. It's the kind of product that has to generate the need before it can make its sale. They do a good job of this, and you might not want to take another shower until you get it. But please do because some reports say it takes awhile to arrive.
The Claim
They say that this is like carpeting for your shower, and they'll back it up with a 10 year guarantee. They say that water flows right through it, which is why it's able to stay in the shower without worrying about wringing it out, or drying it off. It dries itself because water is not trapped in it like a sponge, the way a towel or regular carpeting soaks up the water. They also say that it won't stain, so you don't have to worry about it leaving marks on the bottom of your bathtub.
They say that it's stain proof, and nothing will stick to it. In the demo they show mud and red wine passing right through it, or spraying right off of it. They also show the reverse situation and try to stain it using bleach. The bleach is shown to have no effect. Of course the demo is supposed to show all of the amazing features, and it's good to keep a level head.
The Hype
This has the obligatory infomercial behind it, showing it's features and benefits, and exaggerating the problem of not having a piece of carpeting in the shower.
The Cost
You get the option here as to whether you just want one Aqua Rug shipped to your home for $28, or the buy one get one just pay shipping and have two for $36. This is one of the few times we've seen a company give you the option and not force you into a second one. They are also very upfront about showing you the total before you hit the Buy Now, and not leaving you susceptible to hidden costs and charges. They also have a foot cream upgrade that you can opt into, and that doesn't automatically get tacked onto your order. All around a very solid ordering process.
The Commitment
All that you'll need to do when you get this is plop it in the bottom of your shower.
Evaluation
The Aqua Rug is a pretty unique invention, and if you never thought about having a carpeted shower, you might really be thinking about it now. It helps with traction so you won't be slipping and sliding around, and it also helps to wash off your feet so you don't have to bend down to get the bottoms of your feet. It's nice that you can put this right over the drain and not worry about it causing a clog while you're showering.
There are some reports of charges far in excess of what was supposed to be charged, as well as slow shipping and processing times even when being billed for expedited shipping. But there are only a few of them and they are rather old. The product itself is not mentioned in this feedback, so it's important to note that just because some buyers had a problem with their credit card, it does not mean everyone will.
Final Aqua Rug Review
The Aqua Rug is getting a Solid Try rating. They seem to have cleaned up their billing situation and now it is very clear and straightforward. They have a product that creates a need, and then fills it. Microfibers are not anything new or truly revolutionary, but this is the first product we've seen that was meant to be used and abused, and still function as needed. They have a 60 day guarantee on it, so if you don't like it the cost to try it would be $8 plus return shipping costs. We were unable to locate the details for the 10 year guarantee.
Our Recommendation
If you have the experience of a stinky, moldy, bacteria-laden bath mat, you'll definitely want to give this a try. One is kind of pricey at $28, but two for $36 puts them at $18 each which includes shipping, and that makes it about right. If you only have one bathroom you could put one in the shower and the other out of the shower. They can pretty much be used anywhere you need them, even outside since they won't get all rotten and mildewy.
What do you think? Does the Aqua Rug work or not?