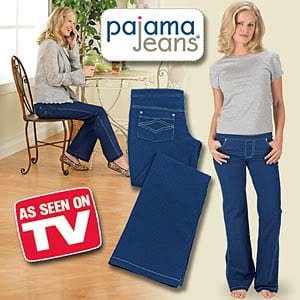 Pajama Jeans are supposed to look like jeans, but feel as comfortable as pajamas and without the hassle of getting into tight jeans. The first question most people have is how comfortable are they really, and will they fit me?
Overview
A pair of form-hugging jeans really does a good job of showing off the goods without showing too much, but they can be really hard to get into. Many of us can relate to the twisting and Lamaze it takes to get into our favorite pair of jeans. And once you do get them on the discomfort can make it hard to want to keep them on. They say that you have to pay a price for beauty, but what if there were a way to get the same look and effect from a pair of comfortable pants.
The Claim
The big claim made by the makers of Pajama Jeans is that they're supposed to fit like a tight, sexy pair of jeans, but without cutting off your circulation and making you lie on your back and wiggle into them, the way you have to with a normal tight-fitting pair of jeans. They say it's a fashion sensation, and these days you do see more people walking around in leggings and other form-fitting clothing that just a few years ago you didn't see.
They say that this is a cross between a pair of jeans and a pair of pajama bottoms, and that they have a mock fly and cross stitching so they really resemble a pair of fashionable denim.
The Hype
The infomercial for these provides some of the hype, but they're also getting some positive word of mouth from those that have tried them and liked them. There's also the broader "jeggings" movement going on, so products like these
The Cost
You can get one pair for $48, which includes shipping, or you can opt for a second pair and get two for $70 with free shipping. So basically the per pair price is either $48 for one, or $35 each for two. Compared to designer jeans these are a bargain whether you get one or two pair, but if you're comparing them to jeans you can find locally at JC Penney then they're a little more expensive than some, and right around the same price for others.
The Fit
It all comes down to whether or not these will fit the way you want them to or not. They have a sizing chart at the website to help with the matter, and users are saying that they run a bit small so you should order a size up. With so many different body shapes and sizes out there, it's little wonder that this would become an issue.
Evaluation
For a pair of jeans made out of pajama material these are getting pretty good reviews. There is such a range of sizes that finding a pair that fits you is just a matter of lining up your dress size and accounting for the fact that they're stretchable. They have a 60 day money back guarantee on them, so you have plenty of time to try them out. If you get the two pair with free shipping then all you'll be out is the return shipping costs. If you just get the one pair you'll have to absorb the $8 shipping charge in addition to the return shipping fees.
One thing that is might be a stopper is how long it takes to receive them. You might be able to find these in store locally, or order them from a different online retailer in order to get them faster.
Final Pajama Jeans Review
We're giving Pajama Jeans a Solid Try rating, but be sure that you spend enough time deliberating on the size. If you get that right you'll join the growing list of fans, and if you get it wrong you'll be stuck with a pair that doesn't fit exactly right, or you'll have to do the returns-by-mail process which is never fun. You'll never be able to find jegging style jeans like this that everyone can agree on, because some people won't like the quality, and others won't like the way they fit. You simply can't please everyone when it comes to clothing.
Our Recommendation
Whether you leave the house with these on is another matter, but as far as providing a pair of comfy fitting pants to wear around the house, or for a pair of comfy jeans to don during that time of the month. Because of the rivets on them they're not really good for use as pajamas, but for quick errands to the store or other activities around town these are a quick and easy pair of pants to put on.
What do you think? Are Pajama Jeans comfy or not?