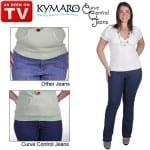 Do you struggle with your favorite pair of jeans, trying to get into them? Curve Control jeans were designed so that you can get into them easily and they will make your great figure look even better.
Overview
Jeans have been the bane of many women's existence since they came into popularity several decades ago. Ever since then they've been in style, and seems like they will be for the foreseeable future. Denim, by its very nature is meant to be constricting. It's just the way it is as a material. Jeans are comfortable to wear and very durable, which is why they became so popular, but getting into and out of a well-fitting pair of jeans can be a struggle even if you're not overweight and have a nice body.
The Claim
The makers of Curve Control Jeans claim that regardless of what type of figure you have, you'll be able to easily fit into their jeans, and they'll feel great while you're wearing them.
It promises to be able to take care of the problem areas women face when it comes to jeans. This includes what's known as Muffin Top, bulging in different areas, and showing the world your butt crack when you sit down, affectionately known as rear end cleavage.
They also say that they'll be able to get rid of that flat bottom look that many jeans are responsible for.
They do this by lifting your bottom, flattening your stomach, and slimming down your thighs, all with one product. Unlike regular jeans that don't have a lot of yield, Curve Control Jeans mold your body with their unique design and stitch work.
These are some pretty big claims from just one simple pair of jeans, and Curve Control Jeans are not the only ones on the market making similar claims. But did they get it right, and is this the final solution to a problem that many women have had for decades?
More on Curve Control Jeans, including paid testimonials:

The Hype
There isn't too much hype involved in the promotion of Curve Control Jeans, because the problems that women experience with conventional jeans are real. There is no exaggeration used when showing how hard it is to get into a pair of regular-fitting jeans. In fact, it may be understating the problem a little bit. Also, this is a real problem because many women tend to think that it's their fault, or they have the wrong figure, when in actuality it's just because jeans are not flattering in many instances.
The Cost
They compare their jeans to designer brands that can run over $200, in order to set up the price point of $60 per pair of Curve Control Jeans. You can get half price on a second pair, and you'll have to pay shipping and handling for both. You can find them $20 cheaper on Amazon, but it's harder to choose which size you should buy as there is only a guide for regular fitting jeans and nothing specifically for Curve Control Jeans.
The Commitment
To give Curve Control Jeans a fair try you have to be willing to wear them around for the day, or out in public doing your normal business. Some women say that they wouldn't wear these outside because they're not very fashionable, others say they look just as good as any of their other jeans and simply go about their normal routine. In order to get your money's worth you'd have to wear them enough to seem like it was a good purchasing decision.
Evaluation
Some people say that they fit true to size, but the directions tell you to order a size down. This can make it confusing during the ordering process and you may have to return it by shipping it back and waiting for them to ship you a new pair.
Final Curve Control Jeans Review
There are mixed reviews when it comes to Curve Control Jeans, with some users saying that they fit like a glove the first time and hold up over time. Others say that the material is not high quality and that even at the low price it still does not make it worth the money. Trying to make a one-size-fits-all jean can't be easy. There are just too many sizes out there in regards to the figures that women have. Out of 100 people sampled there will definitely be those that say it doesn't fit their shape.
Our Recommendation
There is no use struggling in conventional jeans anymore when you can just slip on a pair of Curve Control jeans and be ready to go. They may not be able to replace all of your jeans, but they can be great to wear around the house and informal things like going to the grocery store and running simple errands. You'll still want to keep some regular jeans in your wardrobe as these can't replace all of them, but are a good addition nonetheless.
What do you think? Does Curve Control Jeans work or not?