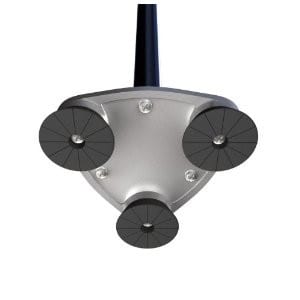 The HurryCane, aka the All Terrain Cane, says that it's inspired by the human body, and involves using a tripod shape rather than just a single point like a cane, or four legs like some other canes. So how well does it really work when put to the test in the real world? Luckily there's plenty of feedback to make an accurate determination.
Overview
You depend upon your cane for stability, so you want something that isn't going to let you down, and is reliable enough to trust it with your weight. While there have been some adjustments and advancements to canes over the years, they generally have retained their basic form and function, even though there are some notable drawbacks to using one.
The Claim
The makers of the HurryCane say that no matter what sort of terrain you're walking on, it will give you the support you need to stay upright and balanced. They say that just like the human body, their cane stabilizes you and bends for easy storage. They say that it holds you steady the same way a foot does, and point out that the foot has three major stability points, the heel, the ball of the foot, and the joint by your pinky toe.
They also say that it works like an ankle joint, so while you're moving, it moves with you, shoving off at an angle and landing seamlessly with each step. The last comparison they make to the human anatomy is the knee joint, saying that it's able to bend and fold up so you can take it with you wherever you go, and it can fit into tight places a normal cane can't.
The Hype
You no doubt found out about this cane by the infomercials that are broadcast heavily throughout the day. The product has experienced some success, which has led to even more aggressive advertising. There's also some positive word of mouth because it does make many improvements over a regular cane, and people will notice someone using it and ask them what kind of cane it is.
The Cost
The HurryCane is $40 with free shipping and comes with a 60 day money back guarantee. It's not often that you see a product that comes with free shipping and a money back guarantee, so you really can try this out, and the most you'll spend out-of-pocket is the return shipping. Most companies make it a win-win situation for themselves by charging an inflated shipping charge so that no matter if you return it or not they still make money or break even. There is one optional upgrade that you can get, a more advanced add-on for the handle that adds an extra $10 to your order.
It's interesting to note that you can buy this on Amazon for the same price, the same extras, and the same free shipping offer. That's nice for those that have been bitten by online ordering, as you can have your order processed by a third party that's well-known and trusted.
The Adjustment
All that's required on your part is to replace your current cane with this one. You may have to adjust to how this works, especially if you've been using an older model can for years. It's supposed to be an improvement and upgrade, but it still takes some getting used to. But once you become familiar with it, and learn to rely on it more and more, it will become like second nature and you'll be able to use it in all of the same locations as before, and perhaps some new ones.
Evaluation
Because of its tripod nature, you don't have to worry about finding a place to lean your cane when not in use, it stands on its own. But it's been reported that the cane has trouble standing upright on carpeted surfaces. But flat, tiled or wooden surfaces are great, and that means that if you're in the kitchen, or out of the home there's a high likelihood that you'll be able to rest your cane when you don't need it. Users have also said that if you're not in a good place to have your cane stand on its own it rests against a wall without sliding down much better than a traditional cane does.
Final HurryCane Review
We're giving the HurryCane our Thumbs Up rating, due to the many positive reviews it's received, the low risk to try it out, and the design that actually improves on previous cane designs. Of course there are those that say it didn't work well for them, or that it isn't durable. Every product has its share of negative reviews. But the majority say it works as depicted in the ads, and with the money-back guarantee in place and free shipping the big risk is on the makers of HurryCane to deliver a product you'll want to keep.
Our Recommendation
If you're fed up with your current cane, have had some close calls, or if you've fallen while using it, this should be a solid purchase for you to consider. The main thing to remember is that it's all about your safety, and picking the walking device that works best for you and your situation. It might be this cane, or it might be a walker or other device, so it's good to size up many different options and make the best choice for you.
What do you think? Does the HurryCane work or not?