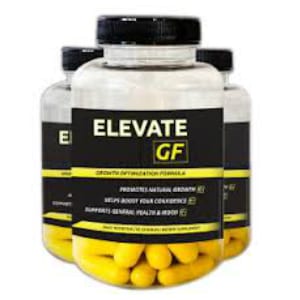 Elevate GF says it can improve your body's muscle growth, and even makes claims to be able to add inches to your height. It's been met with a lot of skepticism, and we mean a lot of skepticism, so is there any validity to the claims, and could this really be the savior for so many smaller-statured guys out there?
Overview
If you're not as big as you'd like to be, it's likely been a dream of yours to get bigger and taller. This creates a strong desire for a solution, and without a lot of treatments available you probably put it out of your head as an impossibility. This is one of the few products out there that we've seen that promises to increase the size of your entire body and simply get bigger.
The Claim
They claim that Elevate GF contains only 100% natural ingredients, that it can improve your mood, and that it can help to boost your confidence. They say that this is a top selling supplement, but we could find nothing to indicate that this is true. We even had trouble finding a picture of a bottle of the stuff that didn't look like it was simply a Photoshopped bottle.
The Hype
They are doing their best to try to hype this up, and generate a buzz for it, and to a degree they've been successful with it. There are advertisements for it that say it's been making the news, but we were unable to find any legitimate news outlet that had run a story on it.
The Cost
A bottle of Elevate GF is darn near $90. They don't charge you that up front, rather they send you a bottle for $5 and then give you two weeks to try it out. You have to call their customer service line and request a return authorization number in order not to be charged the $90 and not be automatically enrolled in their monthly program at $90 a month. This is an absolutely absurd price, and is roughly twice the price or more than any other product on the market that promises to make your muscles bigger.
The Commitment
As with any supplement, you'll have to remember to take this according to the directions, and stick with it on a daily basis to see the cumulative effect over time. They are pretty much banking on you seeing results within two weeks, since that's how long they give you to try it. This means you should at least commit to those two weeks before making up your mind. Just be sure to call and get your return number before the two weeks is up or you'll see charges on your credit card.
Evaluation
The way this is set up is indicative of it being more a way of collecting your credit card information than anything else. We've seen this situation countless times where consumers can't pass up a trial offer because the shipping is so cheap, but then they get popped with the charges later because they forget that it is just a two week trial and not a one month trial because you're set a month's supply. There are still pills left in the bottle, so you must still be in the trial, right? Wrong.
When you go to get the charges removed they will tell you that there's nothing they can do because you authorized the charges. You can still call and have future charges canceled, i.e. get the auto-ship program removed so you're not hit with another $90 charge, but you'll likely end up swallowing the first one.
Final Elevate GF Review
We're giving the Thumbs Down rating to Elevate GF and recommend against buying it. Even at a $5 trial, with all of the fine print this is one offer you don't want to jump on board with. The claims it makes are overstated, there isn't a smidgen of proof anywhere to be found, and details on the offer make it so you'll probably get stuck with unwanted charges.
In order to justify a $90 expenditure every month this product would have to do all that it says it can do and more. We were unable to find any third party users that could vouch for it, and aside from the testimonials on the page most would-be customers are giving it a wide berth and asking a lot of questions about it's effectiveness before trying it.
Our Recommendation
While it's nice to think that bigger gains could be had from a bottle of pills, the reality is that the feedback on this is not promising, and those that have analyzed the ingredients were not impressed with their ability to get the body to grow. Stick to the tried and true methods of increasing the size of your body by taking trusted supplements with a proven track record and positive user reviews.
What do you think? Does Elevate GF work or not?