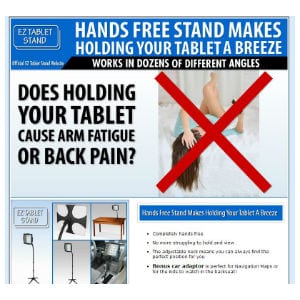 The EZ Tablet Stand is designed to make it easier for you to have your tablet right where you want it, without having to hold it. This would be nice for times when you're reading, or watching a movie and you don't feel like propping it up for long periods of time, but does it really work?
Overview
Tablets boast that they're very light, much lighter than a laptop, but at the same time they need to be held while in use, which can become tiresome if you're just watching a movie on it, or having a video call. Many times you've probably wished that there was a way to prop your tablet up and have it stay put while you relax or get comfy.
The Claim
The makers of the EZ Tablet Stand say that it makes your tablet completely hands free, and because of its adjustable neck you can put it in just the right angle so that you can cut down on glare and have it right where you need it. They also say that their car adapter makes it so that you can have your tablet perched in the perfect spot in your car, so you're not fumbling with it and making driving more dangerous.
The Hype
With the growing popularity of tablets, it's only natural that a product like this would come about. You can expect to see more tablet accessories hit the market if products like the iPad, Kindle, and Nexus 10 keep selling as much as they do. It will
The Cost
The EZ Tablet Stand is $42, which includes the base model for $20 plus $12 shipping, as well as the bonus car adapter for an extra $10 shipping. You can't opt out of the bonus, so this is what your total price will come to. That's pretty pricey, especially considering that there are tablets holders that cost a tenth of this price. We're a little unclear why the base price is set so highly, why the shipping charge is higher than industry standards, and why the "free" bonus costs a whopping $10 to ship when it's smaller in size.
The Commitment
This is supposed to make it so that you don't have to hold your tablet anymore. In that regard it doesn't take much commitment on your end, once you get it set up and in place. It may even make driving more safe if you currently try to hold your tablet while driving. Once your tablet is in the right place it should be really nice to not have to continually prop it up, or hold it with your hands, freeing them up to do other things.
Evaluation
The EZ Tablet Stand is not really inventing anything new here, because tablet stands have been around for quite some time. What they are doing is making it so that it has a floor stand, meaning you can use it all throughout your home, while sitting on the couch, lying in your bed, making a recipe in the kitchen, wherever you need it. They are also making it so you can have it set up in the right spot in your car, for things like mapping your route with GPS directions, or taking a phone call.
The quad-pod base of this stand means that it should be sturdy enough to hold your tablet. Keep in mind that you'll need to make sure that it retains its center of gravity or it's going to topple over. It appears to be a adjustable, so that you can extend it when you want to use it on the floor, or contract it when you want to put it on a countertop. It will be up to your own preferences to see where exactly you'd use it most, and how well it works in that situation.
Final EZ Tablet Stand Review
The EZ Tablet Stand most likely works, but the price point is not right. It should be far less than $42 for a few plastic stands, no matter how much hassle it saves you. They've failed to bring the perceived value of this up to $42, and considering that if you don't like it you'll only get $20 of that $42 back, and that's if they offer a money back guarantee, which we did not see being offered, but assume that it's 30 days and doesn't include shipping charges.
Our Recommendation
Since you can get a tablet stand for less than $5 we'd recommend getting that and seeing if it does the job good enough in most situations. If you find that it doesn't cover all of your needs, then you can come back and take another look at this, and you're only out a few bucks. It might save you over $40, but admittedly it's not going to work too well on surfaces that aren't flat, like when you're in bed, or lounging on the sofa.
What do you think? Does EZ Tablet Stand work or not?
[kkstarratings_custom_footer]