Fat Wallet is a deals page that provides coupons and cash back offers to its members and general site visitors. But is it all it's cracked up to be, and can you really score some deals with it?
Overview
Nothing is better than saving money on purchases, and feeling like you've gotten something for the best price going. Likewise, it's sometimes painful to learn that you've paid more than you should for a product after you've already bought it.
The Claim
The claim made by Fat Wallet is that it is home to the "savviest shoppers on the Internet". In order for that to be true you'd have to be able to get reliable deals from the site each time you go there. However, our research discovered that the site really doesn't offer much advantage over a Google search or just shopping at Amazon.
The Hype
Fat Wallet has been around for a long time in the world of the Internet, started over a decade ago by a lone entrepreneur. In that time it has grown to be able to have a number of employees and has been voted one of the best places to work. They seem to be doing a good job of keeping their employees happy, and offering a polished site to visitors and members.
The Cost
It's free to browse through the different products and services at Fat Wallet, and we weren't even bugged to sign up at all. All of the best deals are listed on the main page of the website with no sign-up required in order to be taken to the website with the deal and make your purchase. They make their money by collecting commissions on the sales made at the sites they send traffic to. It's a common business model, and one that is used by big companies and small alike.
The Commitment
Since you don't have to sign up there's really no commitment involved with using Fat Wallet. You can optionally sign up as a member and get cash back bonuses credited to your account that you can eventually use to make further purchases. You may actual find that you end up buying things you don't really need just because they were presented to you as a deal. It's a haven for those that love their shopping therapy because there is always a wall of new products for you to scroll through and something is sure to jump out at you.
Evaluation
Some of the deals listed aren't really deals at all. Take for example this desk that was listed on the site for $79.88:
But after clicking through to Amazon the price is $128.25: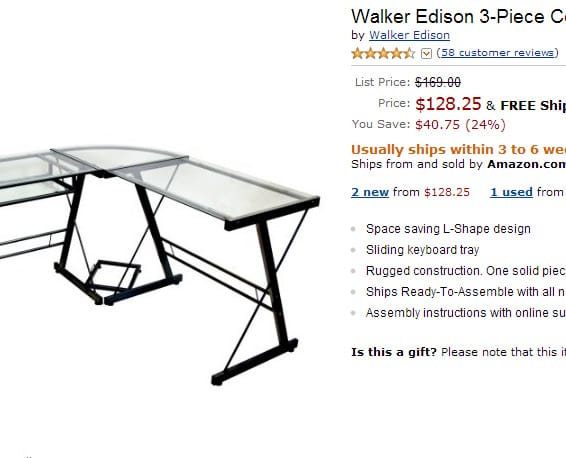 This may be a simple error, or it could be a way to send traffic over to Amazon and put their affiliate cookie on people's computers and devices so that they get commission on any sales made. To truly be a "deal" they would have had to be offering the desk at a price lower than what an Amazon visitor would find it for directly through Amazon.
Other items we found on their "Best Deals" page were equally disappointing, including a great deal on a Dyson vacuum cleaner that had expired, and an off-brand computer monitor being offered for the same price as two other online retailers. So we couldn't really figure out what the big draw is to this site, unless you are fast enough to grab a legit deal when it hits the site, or if you don't mind buying a hodge podge of items to get a cash back award.
The caveat to using a site like this is that it overrides the usual buying cycle that goes something like this: "I have a need that isn't being met. I need a product that meets this need. I will seek out that product and buy it for the best price." Instead you're left with a buying cycle that goes something like this: "Look at that deal! Gimme gimme gimme!" This can lead to purchases you wouldn't have made and you can end up spending more than you have budgeted for the month by being presented with so many seemingly good things to buy.
Final Fat Wallet Review
Overall, we were unimpressed with what Fat Wallet showed us. There were some cool features, and we don't doubt that they've paid back over $42 million dollars in cashback bonuses. But the deals we looked at were either a) for stuff you probably don't need b) expired or c) misleading or d) not very good deals at all. One feature we did like is that they scour deal sites like Groupon and LivingSocial and present them to you in a nice interface.
While the site might have started out with one man and his vision to help people find deals, it seems to have devolved to a generic deal site after being acquired by Performance Marketing Brands. You may be able to find a deal here, but be sure to cross reference your finds with Google to see if you really are getting a decent deal.
Our Recommendation
Most times it's best to drop the name of the product you're considering into the Google search bar and you'll instantly be presented with prices that the item is currently going for. You may be able to find the same item at the same price or lower from retailers that are more well-known and that you'd trust with the sale.
What do you think? Does Fat Wallet work or not?