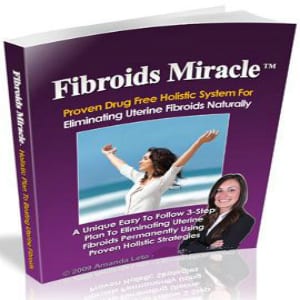 If you've been diagnosed with uterine fibroids, or just want to prevent them Fibroids Miracle has likely made it onto your radar. They say that it's an all-natural way to take a holistic approach to getting rid of the condition. This would be music to your ears if your doctor is only presenting you with medicines or surgical solutions. But can something like this really work?
Overview
Uterine fibroids are more common than you might think. In fact by age 50, half of all women will experience them to some degree. That's why it's important not to feel isolated, or that you have a rare condition here. There's no need to feel embarrassed, or that you're the only one that is suffering from this. The only good thing about having a common condition is that there have been many women before you in which to try different solutions.
The Claim
The claim of Fibroids Miracle is that you will be able to rid yourself of uterine fibroids in just 2 months, and also prevent them from coming back. If you experience pressure, pain, discomfort or bloating in your pelvis area, they say they can fix that in just one day. They also say you can increase your fertility, and get back to having regular periods free from spotting and on schedule.
They also say that you can rid yourself of bladder pressure, and problems experienced during menstruation. And who wouldn't be lured by their promise of no more pain while having sex? They say this is clinically proven, and that it's a holistic way to treat the condition. This means that it covers all of the bases, so to speak.
The Hype
This is a rather sensitive condition for many women, so the hype comes from this being a cure that can help without the need for surgery or to take a bunch of strong medications. Any product that makes these sort of claims and promises is going to get its fair share of attention, and people wanting to know whether or not it works. This is a hard product to find reviews on, because many women don't want to come forward about it.
The Cost
The cost of Fibroids Miracle is $39 and is sold through ClickBank, so you can peruse all that it contains, get all of the information, put it to use, and if you don't get the relief it promises you can get your money back without any questions.
The Commitment
You're probably very motivated to get rid of this, so committing to reading this and putting into practice the three step process it outlines will be no problem for you. It could be easy to be overwhelmed when you see that it's a 250 page guide, but the way it is laid out is logical, and it doesn't read like a novel. You can follow the steps, and skip to sections that are most relevant to you.
Evaluation
With symptoms like bleeding between your periods and having pain during sex, uterine fibroids are something that you'll want to treat as soon as you notice the problem. There really isn't anything else out there that is as thorough as this guide is. It's 250 pages of no-fluff information that you can start using right after you download it.
It's easy to see that research went into this, and it isn't just a compilation of free info found online. The part we liked most is the step-by-step nature of how to treat yourself, and putting things in terms that are easy to understand, without resorting to medical-ese and over-complicating the instructions. We also like that you get email counseling included, and that it's private so you don't have to ask your questions in an open forum.
One thing that many women will wonder about is whether this will work for them. Since uterine fibroids come in many sizes, those with large ones might think that they can't be helped. But they specifically state that it will help you even with large ones. If you have endometriosis or are menopausal you should still be able to benefit from this guide. By not having to take prescription strength drugs, or have painful and potentially dangerous surgery to get rid of these, it could truly live up to its self-title miracle status. If it can produce results in the time frame specified, this would be a savior to tons of women across the globe.
Final Fibroids Miracle Review
Fibroids Miracle is a pretty comprehensive approach to tackling this problem. When you compare it to your other options, it's almost a must that you at least give it a try. You really don't have anything to lose by trying it. We're pretty confident that you'll get at least enough tips and advice to justify the price. Since no two situations are identical, it's impossible to say what sort of experience you'll have with it, but all signs are pointing to this being a good buy.
Our Recommendation
With the iron-clad money back guarantee in place, you almost have to try this. If it doesn't work for your specific case, it's easy to get refunded, and you're back at square one. But if it does work for you, it's probably the best purchase you'll ever make, as it will put things back to the way they were before this all started, and you won't have to worry about what to do if it ever comes back.
What do you think? Does Fibroids Miracle work or not?