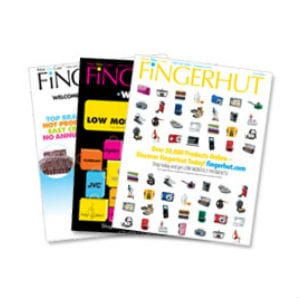 Fingerhut
is a catalog that focuses on being able to finance your purchases so that you can get them now and then make monthly payments on them so you pay them off over time. But how easy is it really to get credit from them, and is it worth buying these products and getting a line of credit with them?
Overview
Sometimes getting the best price on an item is not the only consideration you have to make. Sometimes a company can thrive by providing a service that other companies are unwilling to provide. The most famous retailers out there have credit standards in place and turn away several thousands of customers annually because they're just not quite worthy of a store credit card. Fingerhut represents a company trying to capitalize on this fact.
The Claim
The main reason people shop with Fingerhut is because it's offering name brand products that you'd actually want to buy, and it's allowing you to finance them when perhaps you otherwise wouldn't be able to. It's sort of like Rent-a-Center where you're able to use the product while you're paying it off, instead of going without it while you save up to make the purchase. Yes, you'll pay more for the privilege of having it, but you'll be able to have it that much sooner.
The Hype
Fingerhut produces an attractive catalog that does a good job of showcasing all of the different products they have for sale, and also they have a website that makes it easy to find items that many people would want. They don't rely much on TV ads, it's more direct marketing through the mail, or online advertising to bring people to their site.
The Cost
The prices at Fingerhut are higher than what you can pay at other retailers, and they're well aware of that. This is because they're expecting you to finance your purchase through them, and these higher prices are basically the cost of that financing. They know that you could go to other places and get the same exact merchandise for less, but they are banking on the fact that not everyone has enough spare cash to make these purchases all at once, wants to break up the payments over time, and wants to enjoy the products while they're paying them off.
The Commitment
You're never under any commitment to buy from Fingerhut, as there aren't any membership fees or dues. If you do buy something from them using a line of credit you'll be responsible for paying the balance as agreed at the specified terms. You may incur late fees and additional charges if you don't make timely payments.
Evaluation
The Fingerhut premise is a solid one. They are going after the consumer segment that isn't able to get approved for credit through the most common avenues, and are providing some of the most sought after products that people want to have urgently, such as the most popular gaming systems as well as goods for the home that have a sense of urgency like appliances and other items that are needed when moving into a new home or apartment.
The reviewer in the above video is saying that Fingerhut is a ripoff because the prices listed are more expensive than those that you can find elsewhere. While this is true, the value that people are finding in ordering from Fingerhut is that they're able to get approved for financing when perhaps stores like Wal-Mart or Target or other big box retailers won't extend them credit. So for some it makes sense to pay $250 for a Wii if they can buy it now and make payments on it, rather than buying that same Wii for $50 less at a different store but having to pay the full amount all at once.
One of our testers applied for credit because we knew they had a lousy credit score, and was approved for $180 on a sort of second chance line of credit. We checked that there was no annual fee, and all that was needed to have the item shipped was a $30 minimum down payment.
We did notice a series of complaints regarding the customer service at Fingerhut. These complaints included that the representatives were not based in the United States, and a general unwillingness to help out in the case of problems with the purchase or products themselves.
Final Fingerhut Review
There aren't too many pressing reasons to order from Fingerhut, as their prices are inflated and higher than what is available at other retailers, both online and offline. The major point here is that they'll sell to you on credit when perhaps other stores won't due to a low credit score or poor repayment history. If there are household goods or consumer electronics that you've been eyeing and have been unable to buy for some time, this represent one potential way to get them now, enjoy them now, and pay for them monthly.
Our Recommendation
This may be one option if you're trying to rebuild your credit because they will extend you a line of credit even if your credit score and history is less than stellar. For some it might be the only way to get consumer goods like these without having to buy them upfront. For others it only represents a way of overpaying for things you don't really need, and isn't worth the higher costs involved.
What do you think? Does Fingerhut work or not?