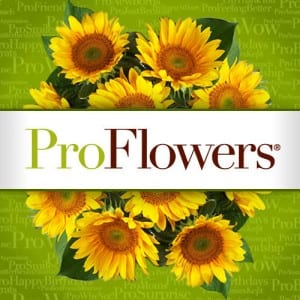 ProFlowers is an online flower delivery service that has been around for over a decade now and is one of the major flower distributors in the country. They have a wide assortment of flowers for all occasions, but will they really show up as shown on the site?
Overview
There are many instances when you want to send flowers, including birthdays, anniversaries, when someone is sick, or to send your condolences. No matter what the occasion it's important that the flowers show up in great condition so that the person receiving them gets uplifted. Traditional flower services make sure that the bouquet looks good before delivering it, and it arrives all put together and ready to place on a table or counter. With ProFlowers there's a bit of a DIY aspect to it, as it comes in a shipping box and requires the recipient to put the finishing touches on it.
The Claim
There are several claims made by ProFlowers regarding their service, and some of these claims have generated lawsuits into their validity. For instance they've sometimes stated that the flowers come from the fields and are shipped direct to your door.
The Hype
ProFlowers is one of the major players in the flower industry, and has captured a lot of market share in just a short amount of time, focusing primarily on generating online orders. Their major competitors are FTD and 1-800-Flowers and between the three of them they send pretty much all the flowers sent in the USA. Flowers are big business, so they spend millions of dollars in advertising each year so you might recognize the brand just by being in the market for buying flowers.
The Cost
The cost of the flowers is based on what kind you're ordering, and how big the bouquet is. They really have a wide assortment of prices, so you can send flowers even if your budget isn't too high. It shouldn't cost a ton to be thoughtful, so it's nice that there are plenty of options in the $20 to $30 range that will work wonders for things like birthdays and anniversaries.
The Commitment
It's easy enough to order from ProFlowers, and they only require enough information to process the order and get it delivered successfully. They do have some lawsuits pending for signing people up for a membership program, so be sure to make sure that all boxes are unticked during the checkout process so that you don't inadvertently get signed up for any ongoing program.
Evaluation
We've directly witnessed ProFlowers in action twice, once on an order of stargazer lilies that arrived looking great and exactly as pictured, and another smaller bouquet of yellow roses that showed up looking old and wilted. The latter order was promptly refunded by the company through email communication with customer service, but at the same time it caused us to never use the service again. Here's why: You can't risk it when it comes to flowers, they have to be 100% perfect 100% of the time or else what's the point? You're sending someone flowers because you want them to feel good, to brighten their day, or to apologize for doing or saying something stupid. If the flowers show up dead it can have the opposite effect of what you're going for. Yes, it's the thought that counts but that only gets you so far.
You also have to consider that the flowers show up in a shipping box, check out the video above to see what we're talking about. It's almost like the recipient receives a flower kit, and they'll need to open it and put it in order to make it look like it does in the pictures. If you don't want to put the burden on them to make the flowers look presentable go with a local service that will arrange the flowers by hand before driving them over.
Another option that you have for quality control is to buy the flowers yourself and hand them directly to the person you're buying them for. Then you know for a fact what the flowers look like and you don't have to risk it. But there are many instances when that's just not an option, and a bulk of the business that ProFlowers does is for times when you can't bring the flowers yourself do to logistic restrictions.
Final ProFlowers Review
Overall, ProFlowers is getting our Solid Try rating because they have shown that they can in fact deliver quality flowers at competitive prices, and the presentation of the box that arrives is often very good, with flowers that are fresh and with instructions provided on how to keep them looking good for as long as you can. Under optimal conditions they are a good service to go with because you can get a lot of flower for the dollar. But we've also seen them at their worst, which only showed that they have good customers service, but still they should have never shipped flowers in that condition.
Our Recommendation
If someone is really mad at you and you are trying to make them not mad at you, this might not be the best service to go with because you just don't know exactly what is going to show up. When it's super important that the flowers arrive in pristine condition, go with a service that will hand-deliver a bouquet. But when you're not in any hot water and you're just sending a bouquet to be thoughtful, we'd recommend ProFlowers, as they've shown they can deliver.
What do you think? Does ProFlowers work or not?