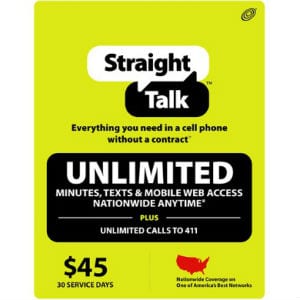 Straight Talk wireless is a cell phone service plan that is a joint partnership of TracFone and Wal-Mart. It's a pre-paid way to get phone service without having to sign a long-term contract. But what everyone really wants to know is whether or not you can actually get a good signal with it.
Overview
When it comes to getting service for your smartphone many of the carriers want you to sign up for a 2 year plan in order to offer you the best deal on a phone. If you don't want to be locked into a contract like that or you can't get approved for one, a pre-paid plan is usually the best option. This entails potentially paying more for you phone but still receiving the same service for roughly the same price each month.
The Claim
Straight Talk claims that you can get an unlimited plan for $40 a month which allows you to talk, text, and use data all in one plan. They also say you can get a free phone with some plans, or use your own phone by just buying a new SIM card for it.
The Hype
Since this is offered at Wal-Mart they don't really need to hype it up very much, but they do still advertise it heavily. With all of the foot traffic that goes through Wal-Mart enough people will have seen this and considered it as an option to avoid higher priced plans with other carriers.
The Cost
The most popular Straight Talk plan is $40 for 30 days of unlimited talk, text, and data, but you can also get a plan that has limits for $30 a month. This limited plan might be enough for many and would represent one of the cheaper plans you can get for a cell phone. When you compare this to other plans costing $50, $60, $70 or more per month for unlimited plans it look rather attractive. The only question is whether or not you'll be able to use your phone the way you want to, with clear calls and fast data service.
The Commitment
Since it's pre-paid you don't have to get wrapped in a long-term contract and you are free to stay on or stop your service at any time. They of course hope that you're happy enough with the service to stay on for a long time so they can collect their monthly fee each month. At the same time since you can stop your service without paying a cancellation fee or suffer any other penalty, you can simply change providers and you're all set.
Evaluation
You're basically using the same lines as other carriers when you use Straight Talk, so you don't have to worry about TracFone adding more towers and making the service better, as they are just piggy backing off of other providers. The GSM phones used on Straight Talk are going to use the infrastructure put in place by T-Mobile and AT&T. It's always interesting to go with a company that hasn't built up its own towers and coverage, but in fact is renting space from other providers. How does that deal work? Does T-Mobile and AT&T give preference to their own customers and let Straight Talk users have what's left over? Is it a total first come first served basis?
There are heaps of complaints about Straight Talk, ranging from the service you'll get on your phone to the service you'll get from their customer service department. We haven't found a cell phone service provider that makes everyone happy, so this is almost the norm in the industry. That's why it's so important to make sure that you choose a service that has a good track record in your area. You want to minimize the instances of dropped calls and staticky calls by making sure that the coverage map is solid where you are.
Final Straight Talk Review
Straight Talk is getting our Try rating, but you'll first want to check the coverage of T-Mobile and AT&T in your home location to see what kind of service you can expect from them. If it works out perfectly for you it's a great way to save money on cell phone service, but if you buy an unlimited plan and have trouble making and taking calls, or the data is so slow it renders your phone useless, it's not going to be worth it even at the lower price.
The nice thing about this service is that it's pre paid and you're not stuck with it if it doesn't work. There are low costs to entry so you can try it out for a month and see how it's working for you on a day to day basis. This is something you can't really do with a phone that comes with a contract, because after that first month you'll be roped in and be subject to paying early cancellation fees. So many people have said that it didn't work for them, but the large majority are getting by with the service on some level, so yes, it does work in most cases.
Our Recommendation
It's worth a try to see how this service works in your area, but you should really check what others are saying in your specific geographic location. This is because the level of service you'll get is going to vary heavily from place to place. Major markets might have plenty more coverage than more rural areas.
What do you think? Does Straight Talk work or not?