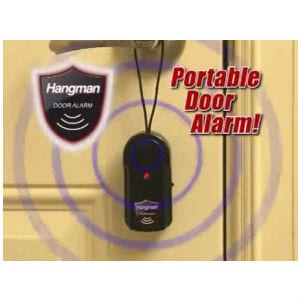 The Hangman Alarm is a motion-sensitive alarm that you hang on any doorknob so that you can be alerted if anyone tries to come in the door. They say it's the easiest and fastest way to feel more secure, but how well does this really work when put into a real situation?
Overview
Alarm systems can costs a ton to have installed and then keep running each month. If nothing happens to your home you might even feel like you're throwing money away each month just for some peace of mind. But there aren't too many ways to secure your home without putting in place some sort of alarm that will alert you or a monitoring company that something isn't right.
The Claim
The claim by the makers of the Hangman Alarm is that you you'll be able to protect yourself from intruders by hanging their battery-operated device on your door. They say that the siren is so loud you'll definitely know that it's been tripped if it should occur. 130 decibels no wires, no phone lines, uses batteries, impossible to disarm,
The Hype
This has a TV infomercial behind it to show how it works, and also show the different ways you can use it. It does use a bit of fear to make the sale, showing a burglar prowling a residence, but it does so in a way that makes it almost comical.
The Cost
For $24 you get two Hangman Alarms delivered to your door. At this price it's not bad to pay $12 each, considering that they're also throwing in a $15 credit towards another As Seen on TV product so it helps to justify the expense. Compared to getting a home alarm system it's far less expensive and has no ongoing costs except replacing the batteries.
The Commitment
All that you need to do is set the alarm and put it in place. Compared to using a different alarm service you don't have to worry about paying monthly maintenance fees or being in any sort of contract.
Evaluation
The Hangman Alarm is a pretty simple idea but many times a simple idea only helps a product actually work well in the real world. They say that it's super sensitive, which may or may not be a good thing. You might get a lot of "false alarms" literally, it might be set off by someone simply knocking on your door. These problems sometimes occur with any alarm system, and it's very normal for pets to trip them and you have to call them up and let them know everything's OK.
There is one thing about the way they show this being used that might present a bit of a problem. They show people putting the alarm in place when they are leaving the home. This means that when they get back they're going to have to set off the alarm at least for a few seconds as they open the door, grab it and turn it off. Unless you want to hear an ear piercing alarm every time you come home or enter the room this wouldn't be a very viable way to go.
But there are plenty more instances where this would make great sense. If you want to prevent kids from entering a pool area, this would tip you off to the doorway being opened. If you want to be alerted to anyone entering your home or room, this would do the job. At the same time it would be just as easy for an intruder to turn the alarm off, because it doesn't have a code or anything that needs to be entered in order to turn it off. Also, they say that because it's battery powered it can't be disarmed by cutting wires or phone lines. At the same time it can run out of batteries and not do its job.
Final Hangman Alarm Review
Overall, the Hangman Alarm can work quite well in certain situations. If you want to feel more secure in your own room, or home and apartment this should do the trick, as long as you understand its limitations. At the same time you might want to pass on this offer because it may not be very practical, and might drive you nuts in the process. You might be the one startled off by a 130 decibel blast when you least expect it, and left fumbling for a way to turn it off.
Our Recommendation
In this instance they guarantee that this will be the best alarm or you get your money back, but because of the way it's set up they'll only refund you $10 on a $24 purchase and require you to send back the product at your expense. So there's really not much being guaranteed here, since you'll be out far more than what you'll get reimbursed.
What do you think? Does the Hangman Alarm work or not?