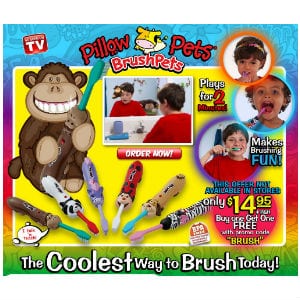 Brush Pets are toothbrushes that are designed to talk and instruct children on best tooth brushing practices. But do these actually do a good job, and do they work as depicted in the promo video?
Overview
Gettings kids to brush can be pretty tricky. Some take to it quite well and like to do it, others take a while to catch on and will only spend enough time to rub the brush over their teeth a few times and call it a job done. Having them brush for two minutes can seem like an eternity, but this is the recommended time that most dentists say you should be brushing for. Even adults can have trouble wtih that one, so it's good to start kids off early knowing how long teeth brushing should take.
The Claim
The claim made on Brush Pets is that they'll not only talk to your child while they're brushing their teeth, they'll also be instructing them on the best way to do so, telling them when to switch areas of the mouth and how to move the toothbrush so they're doing a good job of brushing. They say that they're programmed to play for 2 minutes so when they stop talking they'll tell your child it's time to finish so they know how long to brush their teeth for.
The Hype
The hype comes from this being a product for kids, and we all want what's best for our children. Many times a child will have trouble getting the knack for brushing their teeth, and will try to avoid it and not do a proper job of the chore. This would provide a way to entice them to brush and will also show them the right way to do it so they develop good habits.
The Cost
They have a buy one get one free offer, and it's not like the ones where you have to pay extra shipping for the second one, it really is free. So for $15 plus $7 shipping and handling you end up getting your choice of two different Brush Pets. They let you choose a different character as well, so you don't have to buy two of the same one, perfect for families with two little ones, or a great way to double the fun for one.
The Commitment
This should help you as a parent teach your kids to brush, and should make it so they actually look forward to brushing so you'll have to nag them a little less to do it.
Evaluation
These are from the same company that brought you Pillow Pets, so they already have a track record of having a successful kids product under their belt. As smooth as the ordering process goes, and as good as the price point is, there seems to be a few problems that are going to make this a purchase you might regret making. We spoke to a rep for the company that says the toothbrushes are actually supplied with the Brush Pets, so you aren't able to buy your own toothbrush and use this with it. Also, there's no way to buy replacement heads for it, so when the brush has to go the whole thing has to go.
One problem we see is that the quality of the actual brush being used might leave something to be desired. They don't provide any information about the toothbrush itself and judging by the pictures it looks to be pretty generic. It would be nice if they would partner with a toothbrush company like Oral B or Colgate to bring a better quality brush to the market. Also the brush heads are not interchangeable, so this is only going to be good for about 3 months before you'll have to toss it.
Final Brush Pets Review
Overall, Brush Pets has a few design flaws that we can't overlook and it's earning our Thumbs Down rating. They could revamp the product in a few different ways: making the brush heads replaceable, and using a better quality toothbrush, or making it so the Brush Pet could attach to any toothbrush on the market. If they come out with a new line of these pets we'd definitely review it again and upgrade our rating to a recommendation.
Our Recommendation
It might make for a good one-off purchase to establish good brushing habits since it boils down to $11 per brush, so it's far more than buying a kids toothbrush at the store. But if you consider that for $22 or so you're getting 6 months worth of toothbrushes, it might not be that bad of a deal. We'd really like to see them make some improvements on the product, as the concept is a solid one, just poorly executed as far as value for the dollar goes, and it's disposable so you're just contributing more plastic and electronics to a landfill somewhere.
What do you think? Do Brush Pets work or not?