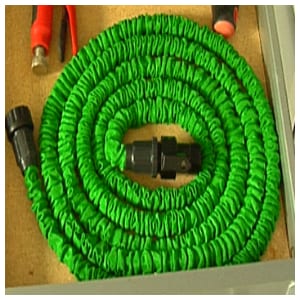 The Flex-Able Hose is trying to make it easier to do things around the yard by being lighter and taking up less space than your conventional garden hoses. It's supposed to be much lighter, and more flexible, being able to be folded in half and still allowing water to flow through. This would be great if it really works, so we delved into the details to find out.
Overview
The traditional garden hose has gone relatively untouched throughout the years, even though it has a lot of drawbacks to it. Only recently has there been a wider range of hoses to choose from. There's been a lot of anti-kink hoses out for quite some time now, but these new seemingly Space Age hoses not only don't kink, but they also expand and contract so that they're only at full size when they're being used.
The Claim
The makers of the Flex-Able Hose say that it's easier to use, easier to store, won't kink up on you, and maintains a strong amount of water pressure. Aside from that they're relatively low key on their claims, and they basically let the promo video do the talking. Once you see this type of hose in action, you're going to be hooked, and be ready to buy. But it's always a good idea to keep your expectations to a minimum and let a product prove itself to you in a real world trial.
The Hype
This is just one of several different garden hoses that have hit the market recently, and it seems that lots of manufacturers have identified the garden hose as a product that needs some serious re-engineering. While it is a pretty neat invention if it works the way they show it to in the infomercial, you won't really know how well it works until you get it home and start using it on the jobs you have in mind for it. Promo vids like these are great at making a product look perfect, so take them with a grain of salt.
The Cost
The Flex-Able Hose comes in three different sizes, each understandably with their own price point. You can get the 25 footer for the advertised $20 with $8 shipping. You can get the 50 foot size for $30 plus $9 shipping, and the 75 foot size goes for $40 plus $10 shipping. They include a spray gun attachment with each hose you buy. These prices are comparable to competing hoses, and they allow you to buy more than one by just paying the extra shipping. Great for having a hose in both the front and back yards.
The Commitment
This should make it easier to get yard work done, or any chore that involves using a garden hose. If you're used to hauling around a big heavy garden hose and having it kink up when you take it around corners, or when it gets tangled up from being in storage, it will save you a lot of trouble. Most people will say that it's a lot easier to lift this and move it around than a conventional garden hose. Once you've got it hooked up and in place, you just use it in lieu of your old hose and carry on like usual.
Evaluation
The Flex-Able Hose looks and functions a lot like the XHOSE, so much so that they might even be produced by the same manufacturer, just in a different color and sold under a different name. We were unable to confirm if that is the case or not, but the way they work is very similar. The XHOSE also comes in a one hundred foot size, for those that need the most reach. It's pretty common practice for competing products to come out, but in this instance they are almost essentially the same thing.
Final Flex-Able Hose Review
The Flex-Able Hose is likely an upgrade over your current hose, especially if you're using a standard green garden hose that is heavy, kinks up, and loses water pressure. This hose grows when you turn the water on, and shrinks back down when you turn it off. With the accessory that they include you'll be able to get a lot done in the yard, or in the driveway if you like to wash your own car. This is a good product to try, but you should decide if it's the one you want to go with by comparing it against the competition.
Our Recommendation
This is basically the XHOSE in a green color, so it's just a matter of which one you want to choose. It's unclear which one hit the market first, but there are more XHOSE ads being run, and they've even been featured on TV programs testing it out to see whether it lives up to its claims. Real world tests have shown that it actually is pretty easy to use, so the big question is whether or not the Flexable Hose is enough of a replica to duplicate that sort of success.
BETTER ALTERNATIVES: If you want a flexible, super tough hose, we suggest you also take a look at this popular hose from Tuff-Guard.
What do you think? Does Flex-Able Hose work or not?