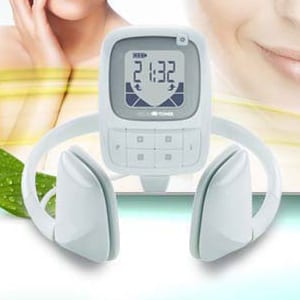 When you first see the Facial Toner it looks a bit strange and futuristic, and immediately makes you wonder if it can actually do what it says. When it comes to restoring your youthful looks of days gone by, there are only so many options available, even though this list is growing. There are plenty of flops out there, and maybe you've tried a few of them and are ready to up the ante a bit and try something like this. That's why we looked into this further to bring you the answers you need to make the right choice.
Overview
As the years add up it really takes a toll on the body, and especially the face. After all, this is our main mode of expression, and is how we convey all sorts of emotions from happiness to sadness, to surprise and an inquisitive look. The face is also what we greet the world with, which makes it hard to watch it start to show the signs of aging, and watch it age more and more as we go along. There are tons of products out there that claim to be the answer, and lots of cosmetic surgeons that are happy to perform various techniques to keep us looking good.
The Claim
The company behind Facial Toner claims that it's a sensation in Europe, and that the unit has been cleared by the FDA. They say that both men and women can use this to help tone and rejuvenate the face, making it look more youthful. They also say that it's adjustable, so that as you progress with the treatments you'll be able to adjust it accordingly, raising and lowering the levels as needed. You can also choose the length of your sessions so that you can fit them into your day and not feel like you have to take up a lot of time with it.
The Hype
The hype is in the idea that you can get anti-aging benefits without using creams, lotions, pills, or cosmetic procedures. This also qualifies as a beauty gadget and requires a bit of belief that what they say it does works. The currents are supposed to activate the facial muscles which in turn helps the skin attached to those muscles look better. It takes a bit of a leap of faith, and this means you'll have to buy into the low involvement/high returns promise that they're making.
The Cost
The Facial Toner is $400 and comes in two different versions, one for men and one for women. You'll also be required to buy the disposable gel pads, with each one running $30 and lasting 2 months. In order to justify this cost they want you to compare it to more expensive procedures like getting Botox, or getting a chemical peel, having a laser procedure performed, or going with techniques like microdermabrasion or a chemical peel.
The Commitment
Although they bill this as a hands free way to get your face in the sort of shape you remember, you'll still have to stick to a regular regimen if you want to reap the benefits. Each person will have their own personal goal for how they want to look and what that will translate into as far as how long you'll have to use it, how often, and for how many weeks or months. They recommend using it no less than 5 times a week for no longer than 20 minutes per session
Evaluation
The concept behind the Facial Toner seems solid, as it is treating the underlying face muscles, rather than simply treating the skin. Since these muscles aren't ones that you can simply go to the gym and train, stimulating the nerves that control them seems like one of the only ways to go about it. So in this regard, they successfully make their case, and by giving it a two month guarantee it reduces a lot of the risk to trying it out.
One nice feature is that it's rechargeable, so you won't have to keep buying batteries for it. It's also got a hand held controller, which makes it much easier than trying to press buttons on it while it's on your face, which would be difficult to do blindly. It comes with a 3 month supply of pads which will get you through the 60 days that they give you to evaluate it and still be able to return it if you're not pleased with the results.
Final Facial Toner Review
There isn't enough data available to tell whether Facial Toner will work for most people that try it. There are too many variables involved, including properly using it, using it long enough to see results, and having enough wrinkles and signs of aging so that you can see a difference. This should be considered first before taking any drastic actions, or seeking out other procedures that can have harmful side effects or scarring.
Our Recommendation
With the initial and ongoing costs of using this product, it's hard to recommend it above more conventional treatments that produce results and don't cost as much, such as facial creams and lotions. However, if you've already tried those and haven't had success, then your condition might be too severe to treat in this way, and it's suggested that you take more drastic measures. This would be something to try out before going with invasive surgical procedures or more expensive treatments that give mixed results.
What do you think? Does the Facial Toner work or not?