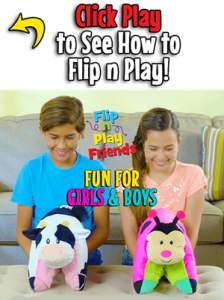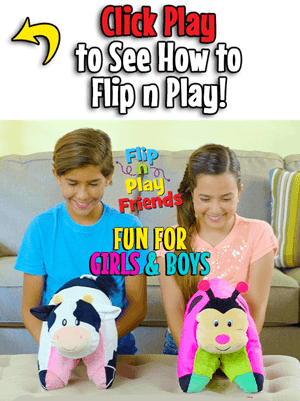 It is getting close to the time where you may have to start thinking about gift buying for the little ones. Pretty soon the tv adds for toys are going to become rampant to entice early buying for the holiday season. Chance are in one of these you are going to see Flip N Play Friends.
Overview
Flip N Play Friends is a toy that the little one can not only cuddle, but they can turn it inside out to make a completely new character out of it.
The Claim
The promoters of Flip N Play say that this is a two in one toy, but in addition to that when the kids are no longer playing with it then easily becomes a pillow.
The Hype
The hype about the Flip N Play is that the kids feel like they are getting three gifts in one. The two versions of the characters and then it can be used as a pillow.
The Cost
The cost for the Flip N Play is $19.99 and $8.99 shipping and handling. Then along with this you also get two mini versions of the Flip N Plays which are smaller enough to fit into the palm of your hand.
The Commitment
The commitment for the Flip N Play is virtually nothing on your part if you are the gift buyer, other than to order it. For the recipient that is where the commitment will come in. You want to be sure that this is the type of gift that would be appreciated by the young recipient. One thing you are going to have to determine is which character are your going to buy because there are ten different styles so that means there are basically twenty different characters. This is where you are going to have some fun.
Evaluation
When looking at the Flip N Play it has some good features to it, and basically it would be the same as buying two plush characters as a gift. It is neat that it turns into a pillow too. There are a lot of young ones that will form attachments to a cuddly toy and they like to take it to bed with them. So having one that can double as a pillow may be intriguing for them.
Final Flip N Play Review
We are going to give the Flip N Play a thumbs up simply because it is a newer version of one of the many different types of cuddly characters that are already on the market. We have also noted that flip n play toys in general seem to be quite popular among the little ones. The price is okay, and falls into the reasonable range when it comes to buying toys of this types.
Our Recommendation
If you find the Flip N Play kind of intriguing then you may also find the Hideaway Friends to also be except they don't seem to be as cute as the Flip N Play.
What do you think? Does Flip N Play work or not?