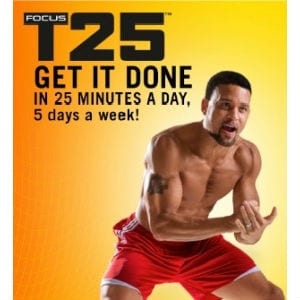 Focus T25 is the latest release from the folks over at BeachBody, and features the same host as Insanity and Asylum, Shaun T. So is he able to capture the same essence of those intense workouts and confine it to just 25 minutes flat?
Overview
The world today seems to pull us in a million directions at once. There are demands at work, things that need to be accomplished at home, everyone seems to need our attention. That can make it hard to dedicate enough time to do an intensive workout lasting 40 minutes, even up to an hour in some cases. If you want to get that total body transformation but find that you don't have enough hours in the day to fit it in, you're the target market for this 25 minute workout program.
The Claim
BeachBody, the creators of Focus T25, say that it can provide the same results from working out for an hour in just 25 minutes. Ther say that because of the fast paced nature of the program you're doing the same amount of work in half the time, so you finish up more quickly but get all of the benefits. It's an interesting point to make because several of their own products have you working out far longer than 25 minutes, so there is a bit of cannibalism going on here, as this will likely affect sales of their other videos and programs.
The Hype
Not much hype is needed here because Shaun T is pretty well known as the face of several different workout programs, including Hip Hop Abs, Insanity, and the follow up to Insanity, Asylum. The major thing that's hyped is the shortness of the duration of each workout session, clocking in at 25 minutes but saying that you get the benefits of a longer workout.
The Cost
The Focus T25 system is $120 billed in three installments of $40 or all at once, your choice. The shipping and handling is free, so all three payments come out the same. When a company has free shipping and a 30 day money back guarantee it's hard not to take them up on the offer. You can be well into your workout program and really make up your mind whether you want to keep it or send it back. That makes it
The Commitment
They are really driving it home that you don't have to commit a lot of time on this, but you will have to commit to following the program and bringing the intensity to your workouts each day. This is a 10 week program, and make no mistake, the workouts are intense. They're trying to get you to the same levels you'd get by spending twice as much time, so they're going to get you moving on this one. Of course you do get to go at your own pace the whole time, so you shouldn't feel like you can't get started.
Evaluation
There are a few things that this workout has going for it. First, the 25 minute time has been repeatedly shown as how long we're able to keep our attention on something. That's why sitcoms clock in at 22 minutes and allow for commercial breaks in that half hour. Twenty-five minutes is how long they give you in the Pomodoro technique, whereby you're supposed to get very focused and concentate on just one task for 25 minutes.
Shaun T is a host that will keep you challenged, and show you the right form no matter which move you're trying to do. He's a definite A type personality, and a go-getter, so he can show you hot to go get it. His style is not for everyone though, so you should check out some free videos of him on YouTube to see if you gel with his style before committing to the purchase. The question remains why someone would want to spend twice as much time working out if they don't have to. Popular theory is that the longer you stay in the gym the more results you get. That's why people are impressed by those that spend hours in the gym, and think that you have to be a gym rat to get a good body. But that's not necessarily true, and for most of us it's not feasible to camp out in a gym like that.
Final Focus T25 Review
Overall we have to give Focus T25 our Thumbs Up rating because they have a long track record of bringing high quality workout programs to the market, and it appears that they've done it again. If you've been wanting to try Insanity but can't fit it into your schedule, they are reaching out to you here and taking away your excuse of not having enough time. At 25 minutes a day just 5 days a week it's hard to say that you can't make this work. Now the onus will be on you and whether or not you can push play on the DVD player and get started each day.
Our Recommendation
Even though this doesn't take up too much of your time each day, you'll still have to show up each day to make it work. These workout programs thrive on cumulative results, which stack upon each other each consecutive day you follow the program. Nothing will stall your success like taking an intermittent approach to this or any other fitness program. Bottom line, if you plug into this system and do what they tell you to do it's going to work for you, it can't not.
What do you think? Does Focus T25 work or not?