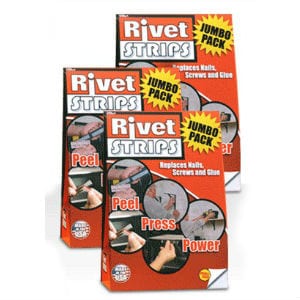 Rivet Strips are presented as a better alternative to super glue and epoxies, giving you the convenience of using tape with the power of a permanent adhesive. There would be dozens of applications for this, if it could actually work so let's see what the verdict is.
Overview
There are probably tons of jobs that you can dream up around your home that would be good for this. Perhaps the handle of a toaster oven has fallen off, or you need to reattach the gutter on your home. Or maybe there is a part of your car that needs to be reaffixed. The point of this product is that you get the precision and ease of use of tape, but it is far stronger so that it won't come undone ever.
The Claim
The makers of Rivet Strips say that you can use it on all types of surfaces like metal, tile, and vinyl. They also say that it's easy to use, you simply peel off the strip to expose the adhesive, stick it to whatever you want to bond, and then stick the piece onto whatever you want to bond it to. You then give it time to set and it's good to go. By putting such a strong adhesive on this they are saying you won't ever have to replace the work you do, it's a permanent bond.
The Hype
The hype comes from the fact that we've had super strong adhesives for several decades now, and we seem to be getting by pretty good with them. When you introduce a new product to the market like this you have to point out the flaws of existing products, and that's what they've done here. Yes, it isn't exactly easy to use adhesives that have to mix together to work. It can also be a problem when you get super glue in places that you didn't want it, like your fingers. There's an infomercial that shows how hard it is to use these other glues, and how easy it is to use the strips.
The Cost
Rivet Strips are sold in a $24 package that includes shipping and includes 3 jumbo packs of the actual strips, which they say gives you over 10 feet of tape to use. If you consider that you're getting a 3 pack for $24 it doesn't seem bad to pay $8 for a package, especially since they get delivered to your door. At the same time if this doesn't work to your liking you'll only get credited back $10 because technically the other $14 is shipping costs. We all know it doesn't cost $14 to ship three rolls of tape, but that's the way they have this set up.
The Commitment
This should take away the need to use other adhesive products, so you could potentially be able to buy less super glue or epoxies, if this works as well as it's shown to.
Evaluation
Anytime you are dealing with a product that says it forms a permanent bond, there's a high chance that it might not work as described. It might turn out that at some point it comes undone, and then you're back at square one. That's not really the product's fault, because there are simply too many situations this could get used on, and some of them it might work really well on, while others it might fall short. There's just no way to tell until you get this home and try it on your own projects.
Final Rivet Strips Review
Rivet Strips are getting our Try rating because it's not too far of a stretch to think that they've figured out how to put the strength of an epoxy on a piece of tape. We have the technology obviously, so it's just a matter of whether or not they pulled it off during the manufacturing process. Unfortunately this is not set up in a manner where it is easy to try, you'll have to gamble with $24 in order to see how it works for you in your situation. But it's unlikely that it will do nothing, so at the very least you can use this as tape if it doesn't hold as firm as claimed.
Our Recommendation
The pricing structure on this could use some work, since the risk of buying it is placed entirely on the consumer. But since there aren't other options if you want some super sticky tape, we're saying it's worth a try to see if this can fix whatever problem it is you have in your home that you think this will work on. Even if it doesn't quite live up to its claims you'll still be able to use the product, so it won't be a complete waste if it doesn't work 100% as shown.
What do you think? Does Rivet Strips work or not?