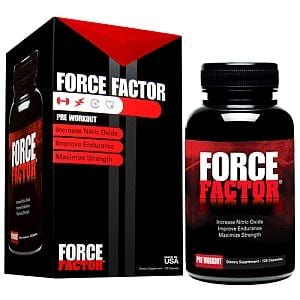 If you're looking to build muscle, it won't be long before you stumble upon Force Factor. They've made a big splash in the world of supplements, and are only looking to increase their market share as they grow. But how can you know if they actually live up to their reputation, and does this stuff really help build lean muscle?
Overview
Force Factor has only been around for 3 years, but they've risen so far in such a short time and in such a competitive industry, that this has to count for something. They have a line up of a handful of products, and have recently released a second version of their flagship product. We like it when companies keep things simple, and don't overextend, and also when they make continual improvements to products that were already effective.
The Claim
Force Factor says that their job is to "make you better, faster, and stronger — period." That's a pretty clear cut statement, but also a big claim to live up to.
The Hype
The hype comes from some of the celebrity endorsers they have, most notably Derrick Rose of the Chicago Bulls, the leagues youngest MVP recipient.
The Cost
Prices vary depending on which product you go with, but both the original Force Factor as well as Factor 2 are $70.
The Commitment
Force Factor helps you get better results from your activities. If you already have an aggressive training regimen, you won't have to make many modifications to your lifestyle, just start using Force Factor and you should start seeing a difference in the amount of power you have to get through a tough workout. If you've just start getting into fitness, and are thinking of using Force Factor to shorten the time it takes to see results, this can be a good strategy. Just be sure that you're committed to making the changes necessary to get your money's worth. Kick any bad habits you have with junk food and other dealbreakers. You'll want to go all out when using Force Factor so you can see some impressive results.
Evaluation
It's natural for a company to expand its offerings, and in three year's time they've grown, but not too much. Spreading yourself too thin is something that some companies make the mistake of doing, and they end up taking their eye off of what was working for them. By having a small suite of products, Force Factor can stay focused but also grow.
Force Factor – This is how it started and is their name sake. The original formula is designed to help you build lean muscle in short order. It helps you lift more weights during your training, and also helps you go longer during your workouts. The key is Nitric Oxide, and the reviews show that most people, even skeptics, couldn't argue about the results they got. This is meant to be taken before your workout, so it can get into your bloodstream and you can feel the effects while you're working out.
Factor 2 – Similar to the original, but with improvements made to deliver it more efficiently to your body, and also takes things to an even higher level.
Body Rush – This is designed so that you have an increase in your energy levels, but without losing focus. This is a post workout supplement so you can recover more quickly and so your body doesn't eat at your muscles when it tries to return to its resting state.
Multivitamin – Similar to other men's multivitamins, just Force Factor style.
Ramp Up – This is a fat burner that helps you maximize your stamina and energy levels.
Glutamine – For joint pain and general inflammation, many people take glutamine to ease the discomfort and return to normal activities.
Whey Protein – They make their own brand of whey protein, so if you're happy with their other products you don't have to wonder which whey protein mix to go with, just get theirs.
Omega 3 – A lot has been said about the positive effects of Omega 3, both for the body and the brain. If you're considering adding this supplement to your daily regimen, you can bet they provide a high-quality version of it.
Is Force Factor Safe?
Safety is one of their major concerns, and by using Force Factor you aren't subjecting yourself to dangerous chemicals that other competing products use. This isn't about artificially boosting your heart rate so you get the "feeling" of having more energy or strength. In the time that they've been in business, they have not had any recalls of their product, and
Is Force Factor a Scam?
Any time a product like this comes out, there will always be those that call it a scam at some point. Either someone tried it and didn't get results, either through misuse or laziness, or they are just shills from another company trying to cast doubt on their competitor. Saying something is a scam is pretty easy to do, but giving evidence to that claim is harder. A scam, by nature, would mean that Force Factor is just trying to take money from people and run. However, it would be much more likely that they'd want people to come back again and again and reorder, since their product is consumable, repeat business is key.
Final Force Factor Review
Force Factor is getting our Thumbs Up. It's not very often that you see a company doing things right in this industry. If you're tired of sifting through all of the mess that's out there and just want something that is safe, won't break the bank, and actually delivers results you can see with your own before and after pics, this is it.
Our Recommendation
Try a sample of either the original Force Factor or Factor 2. They're pretty confident that you'll be so impressed by trying it that you'll go ahead and buy. We think that's a bold way of promoting the product, and you don't see many muscle building companies offering free samples. Either it will work for you and you'll happily pay for a larger supply, or it won't and they just lost a customer. Either way the power lies with you.
What do you think? Does Force Factor work or not?