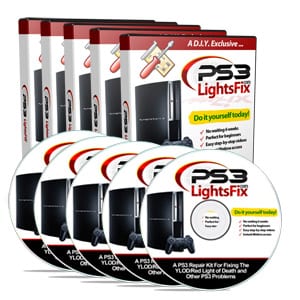 When your PS3 starts acting up, it can really put a damper on the fun, and PS3 Lights Fix promises to help put it all back to normal. When it comes to sophisticated electronics, there's only so much you can do as a consumer when things go wrong. Opening the device and tinkering with things on your own voids the warranty, and sending your unit away for service can get expensive and take a long time. But is this ebook and video series the answer, or will you be back at square one?
Overview
If you've got a broken PS3 on your hands, you don't need much push to want to get it fixed. You can try to find a solution by doing a Google search, but there's not really a way to know that the information you're getting from a random site will work. You can also try to find YouTube videos, but again there's no way to validate that this person is an expert at fixing PS3s. The other option you have is to send it off to Sony, but you obviously don't want to do that or you wouldn't be checking out PS3 Lights Fix.
The Claim
The benefits they claim you'll get by purchasing PS3 Lights Fix is that you won't have to wait a month and a hlaf to get your PS3 returned to you by Sony's service center. Plus, you won't have to pay the whopping fee of $200 they charge to get it working again. They say they candle the flashing Yellow Light of Death, which if you see it you know what it means. You can also get rid of the blinking Red Light.
Every single error code you get on your PS3 can be fixed, according to them. They also say you'll be able to correct any disk reading errors, even for the Blu-Ray. Plus it won't entail getting some refurbished unit back, instead of your own. They also claim that Sony sends your unit back with a blank hard drive, so by doing it yourself you get to keep all of your data intact. One final claim is that they can help you fix any PS3 problem known to man through their forum and 24/7 support, even over the phone.
The Cost
The cost is $37 to have everything digitally delivered to you. If you prefer getting it in the mail you can pay an extra $5 and have it mailed to you as well.
The Commitment
This isn't a magic wand, you'll have to spend the time it takes watching the videos or reading the manual to figure out how to fix your problem. So while there may be more commitment on your part than sending it in for service, you're getting the cost and time savings of doing it yourself.
Evaluation
This is probably the only place in the world where you can get one on one support for your PS3 problems. They've also got a members-only forum where you can ask a question, and browse other people's previously asked questions that have already been answered. For a one-off payment and no recurring fees this seems like something you'd want to have access to for as long as you own your device.
Here's a more detailed list of what they say they can fix, from their official site:
Blinking Yellow Light of Death (YLOD)
Solid/flashing Red Light
Flashing Green Light issue
3 beeps issue
Red Screen
Black Screen of Death
How to permanently fix a Freezing Screen
HDMI issue on your PS3
DNS error issue on your PS3
No Power issue on your PS3
Audio problem on your PS3
How to permanently fix your PS3 Controllers
Blu-ray Drive
What We Like
A lot of these sort of products are either video or ebook, but this one includes both, depending on how you like to receive your information. Also, it can be nice to watch a video and follow along with a book at the same time, so you don't have to go back through the video to rewatch something you missed, you can just skim and find it in the book for a refresher.
What We Don't Like
While searching for what people think of PS3 Lights Fix we found one person that said it was a scam and that you won't get your money back. This is absurd, because they use ClickBank as their payment processor which gives you 60 days to try out a product and has a pretty iron-clad money back guarantee, and tidy refund process. Some people just don't know what they're talking about.
Final PS3 Lights Fix Review
PS3 Lights Fix is getting our Thumbs Up. They have covered all the bases here, and aim to be your one-stop location to fixing all of your PS3 problems not just now, but whenever they should arise in the future. Why trust your machine to the blind leading the blind or some random site where you don't know what their real motive is?
Our Recommendation
When your PS3 has turned into an expensive paper weight there's only so many options you have. For $37 you can have at your disposal a product that could potentially fix the problems you're having, not just now but in the future. If you try it and it doesn't work, it's easy enough to get your money back, with no harm done other than wasting a few hours. When it comes to high potential upside, and little to no risk, we always recommend going forward.
Official Website: PS3LightsFix.com

What do you think? Does PS3 Lights Fix work or not?