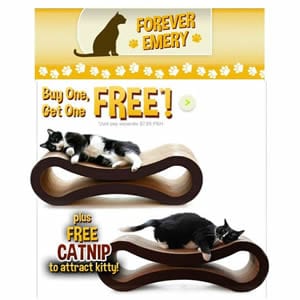 Forever Emery is a cat scratcher pad that is dual sided and is meant to file down your cat's nails so that you don't have to clip them. It sounds like a good way to get your cat's claws under control without having to resort to extreme measures, but how well does it actually work?
Overview
Clipping a cat's nails can be a real pain, both literally and figuratively. Most cats will squirm and try to get away from you when they realize you're trying to get something done to their claws. If you clip too far you'll end up hurting them. If you use a dull clipper you could end up splitting their nail. If you let them grow out completely they can become very sharp and hooked, making your cat a bit dangerous to other cats in the home and to you and your family.
Getting a cat declawed is thought of by many as inhumane, and at the very least a painful experience for your cat, and a reduction of their natural ability to defend themselves and explore the world around them. So a happy medium needs to be found whereby you're getting some nicely rounded ends to their nails and they're getting to keep their claws to be a cat and do what a cat does.
The Claim
The claim made by the makers of Forever Emery is that your cat will choose to use their scratcher over clawing up your furniture and curtains. They say it's reversible, so you get twice as much use out of it as a normal scratch pad. They say it's made from dense cardboard that lasts longer than other cheaply made scratchers. They also say that because of its curved design it is more comfortable for them, and allows them to scratch at it more easily.
The Hype
Cat owners want the best for their cats, as well as their furniture, so this hits on at least two levels. Also, there's a bit of hype anytime a company tries to predict a cat's behavior. There's just no telling what a cat will take to, and what it won't, even with the included catnip, there's still no guarantee that the cat will use the pad to scratch, it could just end up getting its catnip fix and walking away.
The Cost
The Forever Emery board is $36 with shipping factored in and you end up getting two of them. They start off with a price of $20 and then bump it up with two $8 shipping charges to get you to the grand total. They boast a 30 day money back guarantee, but it's just about a break even if you take them up on it, since you'll have to return the product, and you'll be out the $16 original shipping plus the cost of a return. They'll credit you back the $20 original purchase price only.
The Commitment
Since this uses catnip to attract the cats to the pad it shouldn't require too much on your part in the way of getting them to use it. For most cats once they feel the texture of the board they are going to want to use it because it feels good to them. If this can save you from having to buy new furniture, and the time and expense of nursing your cat back to health after a traumatic declaw job, it would be well worth it.
Evaluation
The Forever Emery is not exactly a unique product, the Emery Cat has been around for just as long if not longer, and is essentially making the same claims, but has a cat toy attached to it as well. The video below shows the Emery Cat. You can see that it is essentially the same product, with one of the major differences being that it is not reversible, but it does have replaceable inserts so when it's used up you don't have to replace the entire product.
A very similar product:

Final Forever Emery Review
The Forever Emery is getting our Solid Try rating, it's shown that it has the ability to file down your cats nails, not to the point where it hurts them, because they'll stop using it when it gets too far. The price point is about right, and with average use you may have to buy this annually. That would be a preferable way to go considering they can do some major damage to furniture.
Our Recommendation
The reason that this is earning a try from us is because it can easily make up for the price by saving money on new furniture and a declaw procedure from the vet. You simply have to exhaust all options in order to protect your furniture and belongings, as well as your cat's claws.
What do you think? Does Forever Emery work or not?